Today, we are working on how to make chorizo hash. Hash is one of those wonderful meals you can just throw together, using whatever foods you happen to have on hand. I'm sitting here in day 3 of COVID-19 isolation. They types of meats and foods available at the grocery store is limited and it's time to start thinking a little more creatively when it comes to meal time. Since has is easily varied and is great for using up leftovers, hash makes a wonderful staple recipe when working with limited resources due to quarantine/isolation. Jump to Recipe
The store was out of all ground meats and fresh sausages except chorizo! It sort of blows my mind that chorizo was left behind. Maybe most folks just aren't that familiar with this Spanish-origin sausage? Chorizo is packed full of strong flavors and a wee bit of heat. Since the chorizo itself is flavorful, there isn't much else needed in this dish.
For this particular hash, I kept it quite simple using chorizo, potato, onion and topping with cheddar cheese and green onions. If I'd had some avocado on hand, I would have also topped with some thinly sliced avocado. Queso blanco would have also gone nicely with this hash, but cheddar was what I had in the fridge. I love the endless options and variables when creating hash. This particular hash is gluten free, but can be dairy free by skipping the cheese. Hash can even go vegan by subbing in tofu scrambles.
Making Hash: The Right Tools for the Job
I used my trusty mandoline slicer and steel glove to matchstick slice the potatoes and onion. Bonus, it sliced up super fast and kept the cooking time short. While the mandoline slicer did not make my list of my top 10 kitchen gadgets, it's probably the very next item on my list. This slicer makes quick work for thinly sliced onions and potatoes, is great for julienne/matchstick veggies like carrots and zucchini.
While this particular slicer comes with a food guard, I prefer to use a steel glove. It's really important to ALWAYS wear a steel glove when using a mandoline – those blades are very sharp! As an added bonus, once you're gloved, it's much simpler to swiftly pass the food along the blade. You don't have to worry about the food slipping away from the guard when you're using a glove.
This particular recipe wound up being quite simple, but has endless variations and toppings. What do you like in your hash?
How to Make Chorizo Hash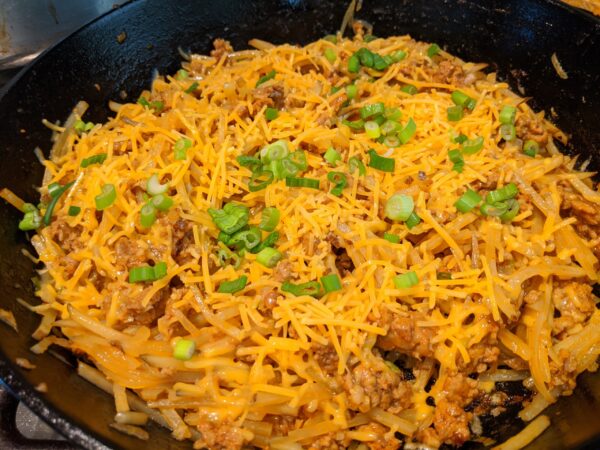 Chorizo Hash
Quick cooking, weeknight hash with chorizo, potato, onion and topped with cheddar cheese and green onion.
PRINT
Ingredients
12

oz

fresh chorizo sausage

1

large potato

1/2

onion

2

oz

shredded cheddar cheese

2

green onions

salt & pepper to taste
Instructions
Remove the chorizo from the casings. Break up and brown over medium-high heat in a non-stick or cast iron skillet, 5 minutes until well browned.

While the chorizo is cooking, use the mandoline to julienne/matchstick cut the potato and onion. Thinly slice the green onions, separating the white from the green parts.

Once the chorizo is browned, add the potato, onion and whites of the green onion to the pan. Season with salt and pepper. Stir to combine.

Cook, stirring frequently approximately 10 minutes until the potatoes are cooked through. The onions may start the caramelize and stick to the bottom, scrape and incorporate into the hash.

Once the potatoes are cooked through, turn off the heat. Sprinkle cheese and green onion on top. Let stand a couple of minutes and then serve!
RECOMMENDED PRODUCTS
Mandoline Slicer

Steel Glove

Non-stick or Cast Iron Skillet
RECOMMENDED PRODUCTS
As an Amazon Associate and member of other affiliate programs, we earn from qualifying purchases.