Just what the heck is a Canadian Pork Cottage Roll?
Sometimes there is food in Canada, that America and the rest of the world have never heard of. It honestly doesn't happen too often,(I see you butter tarts and poutine) but the Pickled Cottage Roll is one of those uniquely Canadian Items.
What is a Pork Cottage Roll?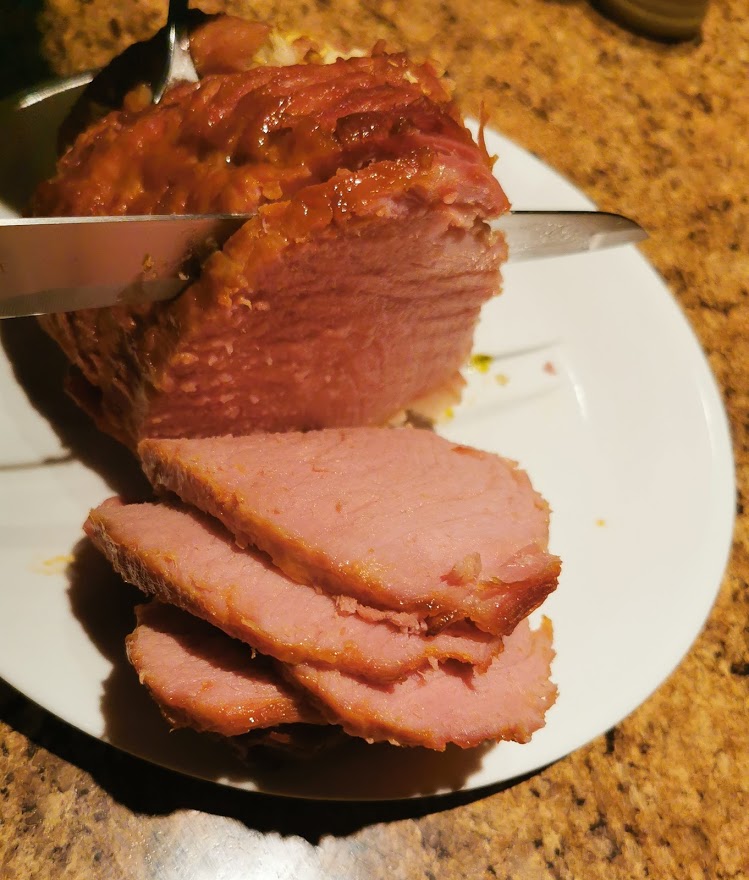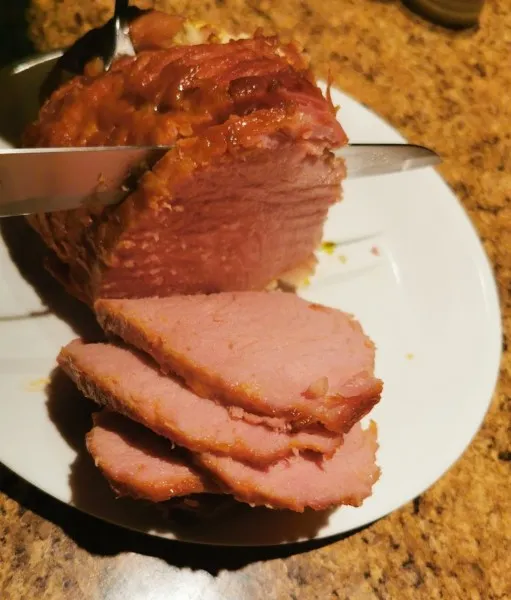 This cut of meat is a boneless pork shoulder butt that has been cured or lightly pickled in brine. The brine is usually salty, slightly sweet water.  It is pretty fatty. Usually, this cut of meat is super cheap but it's oh so tasty! There will be netting, and then a sealed plastic around it in most instances. It's kind of like a ham, but not exactly.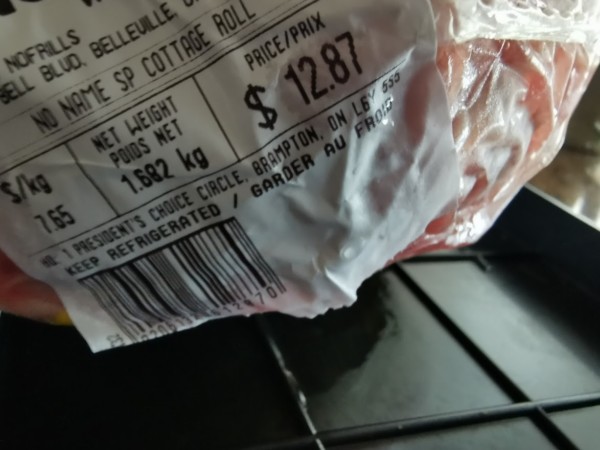 Can I cook Canadian Pork Cottage Roll in an Instant Pot?
Of course! Canadian Pork Cottage Roll is super easy to do in your Instant Pot. Hands-off and delicious. You also can then use the leftover broth water to make a tasty French Canadian Split Pea soup very easily.
French Canadian Split Pea Soup is super great in the winter and fall months if you've never had that. This is a great and easy truly Canadian meal. Check out my recipe here.
What Vegetables go with Cottage Roll?
Because it is a sort of pickled meat, the same vegetables that you eat with a cut like corned beef, also taste really great with a Cottage roll. Potatoes, Onions, Cabbage, Brussel Sprouts, Carrots. Any of these types of vegetables can be cooked and eaten with a Cottage Roll and it will be delicious.
To Rinse or Not to Rinse?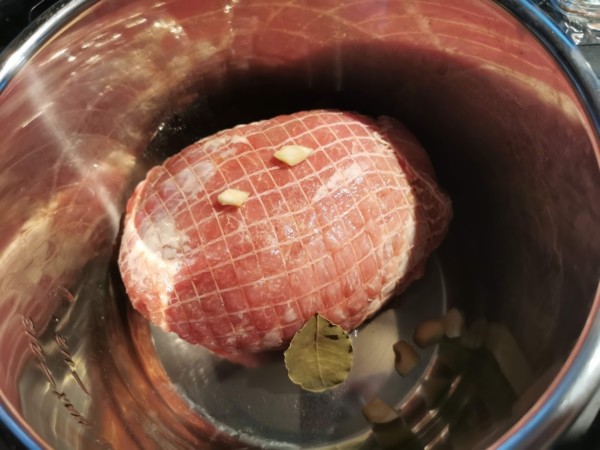 Because the Canadian cottage roll is packaged in brine, the question is do you rinse this off before cooking? It is a matter of personal preference. I don't add any salt when I make it, so I don't mind the slightly salty taste you get if you don't rinse.
It is probably not as salty as you think it will be, but everyone's salt preference is different. If you prefer less salt, you can easily rinse the cottage roll under the tap before you add it to the instant pot for cooking.
No Instant Pot?
If you happen not to have an Instant Pot, no worries. You can easily make this on your stove in a large stockpot. You want to cover, boil and simmer for an hour to two hours. Check for an internal temperature of 160F. You will also need to check the water level and make sure that the water is covering the roast as some will boil off.
The meat will be more tender in the Instant Pot version and requires no watching so it is my preferred method.
Final Tips for How to Cook a Cottage Roll in Instant Pot
You need to make sure the cottage roll is not frozen. So put it on a plate in your fridge and let it defrost the day before. Then we will put it in the Instant Pot with some pickling spices and a few vegetables. Let it cook while you go about your day. I make this recipe super low-key – set it and forget it.
When the cottage roll is done, you quickly make some roasted/boiled vegetables, and then you can serve the cottage roll as is or make an easy glaze, and pop it in the oven to finish it up. Both ways are delicious but I usually take the time to give it a quick roast at the end.
Let's get on to how to cook a Canadian Pork Cottage roll in Instant Pot.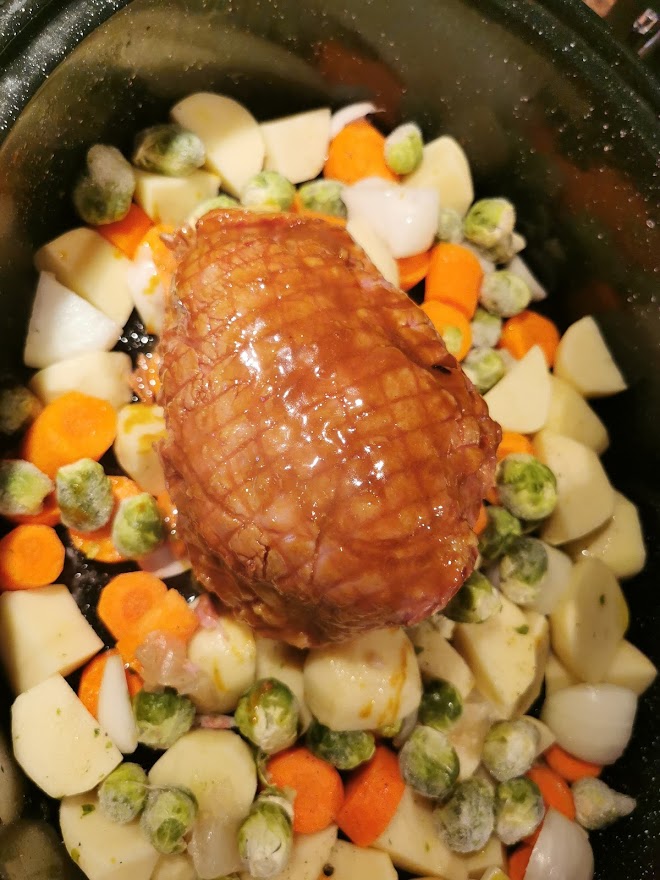 Pork Cottage Roll in Instant Pot
Canadian pork brined cottage roll in the Instant Pot is Super easy and tasty
PRINT
Ingredients
2

lbs

Pork Cottage Roll

,

(your size may vary so adjust accordingly)

1

onion

2

cloves

garlic

4

cups

water

,

(you may need more or less water)

2

bay leaves

1

tbsp

peppercorn

1

tbsp

pickling spices (optional)

,

not required
Roast Vegetables
5

potatoes

3

carrots

2

onions

1

cabbage
Finishing Glaze
3

tbsp

yellow mustard

3

tbsp

brown sugar
Instructions
Remove the Plastic from the Cottage roll but leave the netting on the roll. Place in your Instant pot on the metal holder.

Add the water to the Instant Pot. You want the meat just almost covered. Add more/ less water depending on the size of your Instant Pot and the size of your cottatge roll.

Add the whole garlic cloves, 1 large chopped onion, bay leaves, peppercorns, or use the all-in-one optional pickling spices if you are using them (I usually don't)

Set the Instant Pot Main Pressure Cook for 30mins per lbs - 1hr for 2 lbs 1hr 30mins for 3 lbs. The Internal Temperature needs to be at least 160F. Allow your Instant Pot to Natural Release when the time is up.

Remove pork from Instant Pot. Save liquid to make soup.

You can eat as is or you can make an optional glaze and finish in the oven with some vegetables

You have several choices for vegetable preparation. While the Cottage Roll is cooking prepare the vegetables. Clean, and cut your carrots, onion, potatoes, and cabbage. You want large chunky vegetables.

Option 1 - Remove some of the liquid in the instant pot. Save it for soup. Add the large chunky vegetables. Set Instant Pot timer for 6 minutes. Use quick release.

It takes a while to get all the liquid under pressure. This will make a boiled vegetable option.

Option 2 - Place chopped carrots, onions, potatoes, cabbage into the bottom of a roasting pan.

This takes a while but offers roasted vegetables.

Mix ingredients of glaze. An additional option is to just brush some dijon or regular mustard on top, or nothing at all.

Cut the netting off the cottage roll. If you are not roasting vegetables add a teaspoon of olive oil to the bottom of the pan so it won't stick.

Place pork on top of vegetables and coat with glaze.

Bake in the oven for at least 20-45 minutes until the vegetables are tender and the glaze is set.

This makes the cottage roll less mushy and has more of a crunch to it. Those crispy pork bits are the best!
RECOMMENDED PRODUCTS
As an Amazon Associate and member of other affiliate programs, we earn from qualifying purchases.
I really treat this recipe as a 'use what you have' and low maintenance deal. I hope you find this helpful in how to cook cottage roll, enjoy making this uniquely Canadian dish and have tasty pork slices in your future!