Where did we come up with this delicious Creamy Blistered Tomato Pasta? In the endless groundhog days of cooking for a family of 5, I found myself uninspired and turned to Home Chef, a meal kit subscription service. One of the meals we wanted to try, but didn't get the chance to became the inspiration for this dish. We were entertaining friends and absent-mindedly I pulled together this delicious meal in no time flat.
How to Make Creamy Blistered Tomato Pasta?
Creamy blistered tomato pasta uses just a few, simple ingredients – fresh and easy to assemble. Fry up some prosciutto until crispy and remove from the pan to a paper towel lined plate. Blister those tomatoes in the prosciutto remains (add a little oil as needed). Slosh in some cream and basil and you're basically set. The smokey flavor of the prosciutto plays off the freshness of the tomatoes and basil.
Which Vegetable to add to Creamy Blistered Tomato Pasta?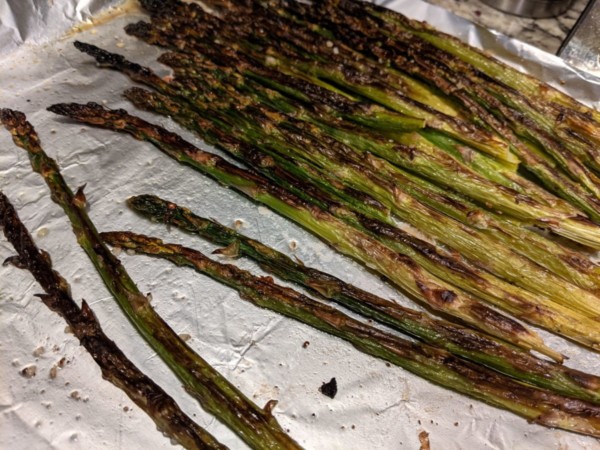 In my quest to add more vegetables to my diet I had also roasted up some asparagus. Actually, that first time through, I was so distracted by my company that I forgot about the asparagus and it charred up a little. However, I discovered that the charred asparagus paired beautifully with the rest of the sauce.
On a later cook through, I found we had used up the asparagus I'd ear-marked for my creamy blistered tomato pasta. I had already started cooking when I realized the error. So instead, I added a cup of frozen peas towards the end. I personally prefer the charred asparagus, but my kids liked the mouth feel of the peas in the sauce. The great thing is that you can swap out the vegetables based on your preference!
Creamy Blistered Tomato Pasta – the Tools of the Trade
If you've seen My Top 10 Kitchen Gadgets list then you know I'm a huge fan of the cast iron skillet. You can certainly use some other non-stick pan, but the tomatoes really develop a better flavor in my trusty cast iron skillet. The best thing about cast iron, is that the more you use it, the better the flavors in your subsequent meals. Just remember to try not to stir those tomatoes too often. I always want to swoosh them around the pan, but they blister so much nicer if you can just leave them alone! Other than a good quality knife and cutting board, there isn't much more that you need for a successful creamy blistered tomato pasta.
Tomatoes, Tomatoes, Tomatoes
If you're a regular reader of my recipes, you may have already figured out that I really love to cook with tomatoes. Feel free to take a tour of my Creamy Tomato Bisque recipe. Or, add a little spice to your life and make Instant Pot Butter Chicken – it's always a crowd pleaser when I'm hosting guests. It's really no surprise that I've even bought bulk tomatoes from a local tomato farm!
Bring on the Cream!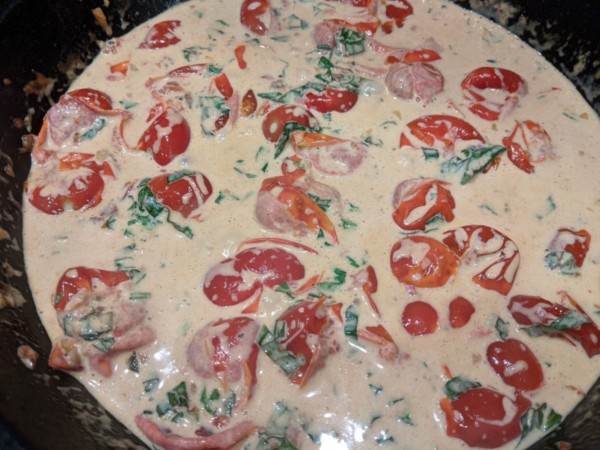 I use a lot of cream in this recipe and even add in some freshly shredded Parmesan. Cream is a really important component, because the basil will infuse while it simmers. For those of you watching the fat content, you can easily modify the recipe to fit your needs. You can cut the cream and use some of the pasta water or skip the cheese entirely.
The good news is that the prosciutto, tomato and basil do a lot of heavy lifting on the flavor front. I just happen to have some really skinny kids and I work hard to boost the calorie count on meals I know they'll devour.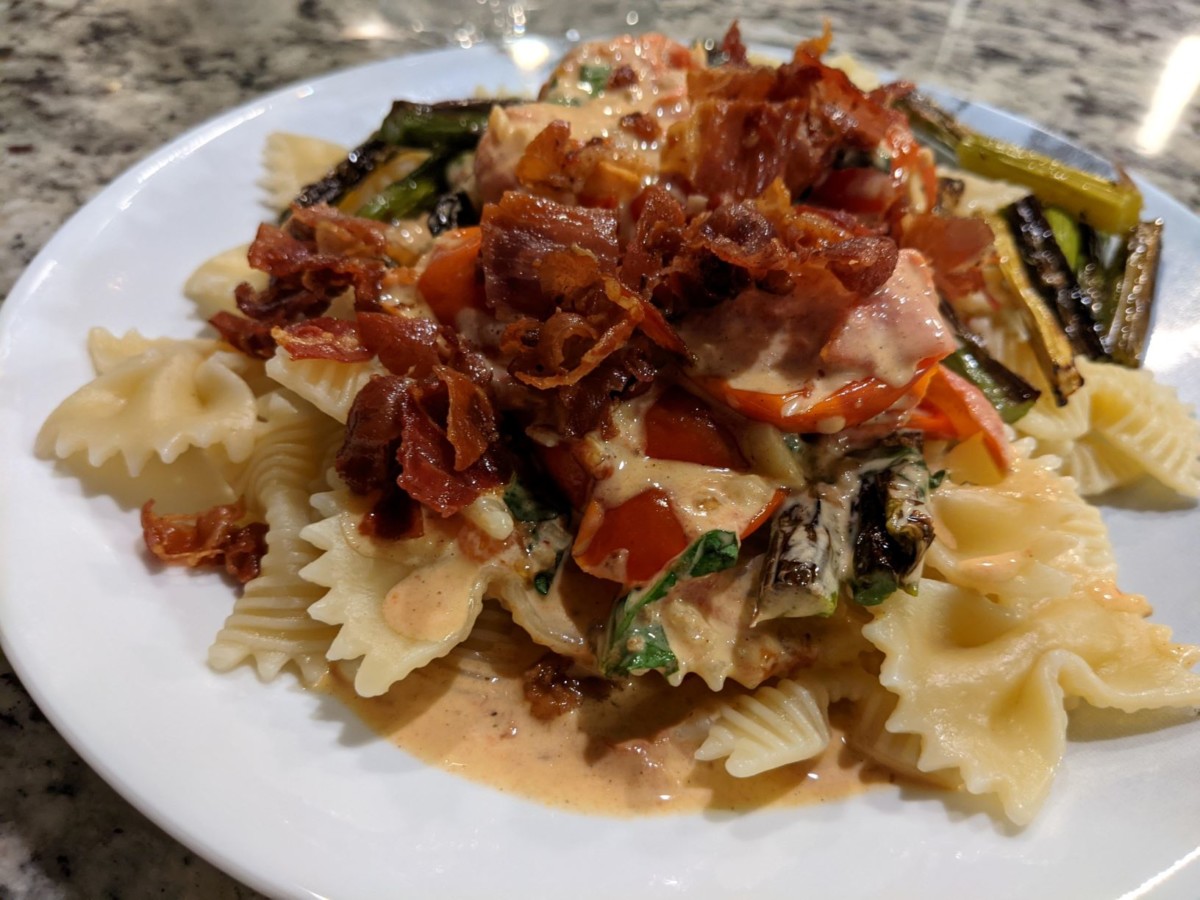 Creamy Blistered Tomato Pasta with Prosciutto and Charred Asparagus
Rich and creamy pasta with blistered cherry tomatoes, garlic, crispy prosciutto and charred asparagus.
PRINT
Ingredients
1

bunch

asparagus

avocado or olive oil

4

oz

prosciutto, chopped

2

packages

cherry or grape tomatoes

2

Tbsp

olive oil

3

cloves

garlic, minced

2

cups

heavy whipping cream

,

(or a mix of cream, milk, pasta water)

2

sprigs

fresh basil, chopped

2

oz

freshly shredded parmesan cheese (optional)

1

lb

bow tie pasta

salt & pepper, to taste
Instructions
Charred Asparagus
Preheat oven to 400 F. Line a baking sheet with tin foil.

Trim bottom inch of asparagus by breaking at its natural breaking point. Arrange on baking sheet so that they are not over lapping.

Drizzle with avocado or olive oil, making sure tips are covered. Season with salt and pepper. Roast about 15-20 minutes until cooked and slightly charred. Chop into 1" pieces and set aside.
Prepare Pasta
Bring a large pot of salted water to a boil. Cook pasta to al dente pasta directions.

When cooked, drain pasta, reserving a cup or so of the cooking water. Set aside.
Prepare Sauce
While the oven preheats and the water comes to a boil, start the sauce.

Add a small drizzle of olive oil to a cast iron skillet and bring to medium high heat. Add the prosciutto and saute, stirring frequently until crispy. Once crispy, use a slotted spoon to remove the prosciutto to a paper towel lined plate.

Add the cherry tomatoes to the pan, along with one or two tablespoons of olive oil. You want them to be evenly coated but not greasy. Season with salt and pepper.

Cook the cherry tomatoes over medium-high heat, stirring occasionally, until they are starting to pop and burst, 5 to 10 minutes. You want to see them develop some blistering.

Once the cherry tomatoes have started to pop, add the garlic and reduce heat to medium. Using a wooden spoon, break up the tomatoes. Keep the tomatoes and garlic moving in the pan so that the garlic doesn't burn, about 5 minutes.

Add the cream and basil. If 2 cups of heavy whipping cream is too fat/rich, you can use a mix of cream and reserved pasta cooking water. Bring to a boil, reduce heat and simmer another 5 to 10 minutes. Taste the sauce, then season with salt and pepper.

Optional: Stir in parmesan cheese right before serving.
Bringing It All Together
Option A: Toss the pasta into the sauce, stir in the asparagus and top with prosciutto

Option B: Plate the pasta, layer on asparagus, then sauce and sprinkle with prosciutto
Notes
Equipment Used:
Cast Iron Skillet
Zester
RECOMMENDED PRODUCTS
As an Amazon Associate and member of other affiliate programs, we earn from qualifying purchases.