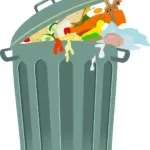 Have you ever peeled a pile of potatoes and felt guilty for tossing all those potato skins? Although I frequently like to prepare my potatoes with the skin, there are times I just really want a fluffy mashed potato. It was on my quest to reduce food waste that I stumbled upon roasted potato peels.
What's so great about roasted potato peels?
The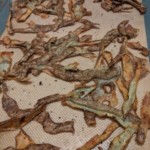 y're super fast and super easy. Seriously easy. They make a great little appetizer because they aren't too filling and cook up while you're doing your other prep work. You can easily make them in any size batch, based on however many peeled potatoes you need. Roasted potato peels are also super versatile. You can easily change the flavor profile to fit your meal. Simply season them with the spice/herb mix of your choice: ranch mix, paprika, hot pepper flakes, simple salt and pepper, garam masala. Really the list and options are endless.
A super easy recipe while you finish your food prep!
For me, this all started when I was making Shepherd's Pie. I'd peeled 5 potatoes and didn't want to throw away all those lovely skins. My oven was already on and warming up. So I just tossed the skins with some olive oil, salt, and pepper and let the skins roast while I waited for my potatoes to boil and my filling to cook. They turned out so amazing! I pulled them out of the oven, just as the Shepherd's Pie went in. My husband and kids enjoyed a light, crispy treat while dinner was in the oven. I will honestly never throw away potato skins again.
As you start your food prep, simply peel those potatoes directly onto a silicone-lined sheet pan. When you're finished, drizzle just enough olive or avocado oil to lightly coat them. Toss with salt and pepper, plus any other seasonings of your choice. Personally, I'm a fan of adobo seasoning, paprika or a little cayenne. Toss them in the oven and let roast for about 20 minutes. The potatoes can take a variety of temperatures, so just use whatever temperature you already need, and adjust the time (more time for 350, less time for 425).
How To Make Roasted Potato Peels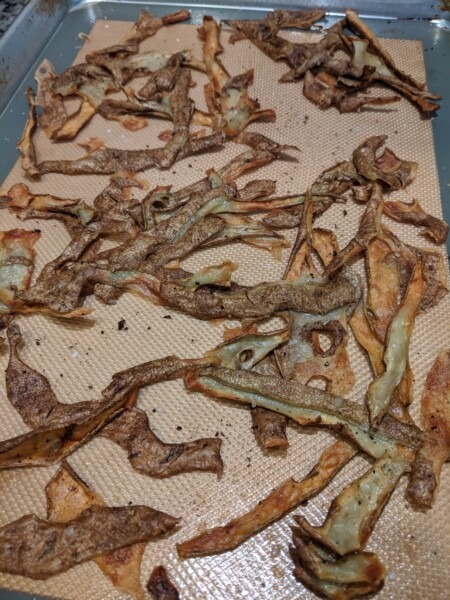 Roasted Potato Peels
Quick appetizer recipe to use potato peels. Never again throw away potato peels!
PRINT
Ingredients
4

Medium potatoes, peeled

1

Tbsp

Olive oil

Salt & pepper, to taste

Adobo, cayenne, paprika or other seasoning, to taste
Instructions
Preheat oven to 400. Peel potatoes on to silicone lined sheet pan. Reserve potatoes for mashed potatoes, potatoes au gratin, or some other dish.

Drizzle potato peels with just enough olive oil to lightly coat. Toss with salt, pepper and the seasoning of your choice.

Bake in preheated oven approximately 20 minutes to desired crispiness.
Notes
Recommended Products:
Silicone Baking Mat:
Potato Peeler:
RECOMMENDED PRODUCTS
Potato Peeler

Silicone Mat
RECOMMENDED PRODUCTS
As an Amazon Associate and member of other affiliate programs, we earn from qualifying purchases.