This delicious prosciutto quiche all started as nothing more than a quick grab of leftovers in my fridge. It was off-the-hook amazing and now I'll roast up some Brussels sprouts just to make the quiche. What's great about quiche though, is that you can easily swap out ingredients based on whatever you have in your fridge.
Don't care for Brussels sprouts? Roasted broccoli, asparagus, cauliflower will all work! Short on green onions? Go for shallots, chives, or even regular onion. Cheddar too sharp for you? Gruyere, Swiss or any cheese of a similar consistency will work.
Prosciutto Quiche Making Methodology
It's all in the pan!
Yes, you can use a standard pie pan for making my prosciutto quiche, but you'll have to adjust cooking temperature and time. For the best results use a quiche pan – which is wider and shallower. Better yet, if you have one with removable sides, it'll make for a more dramatic and beautiful serving. Get it here.
Roast up those veggies!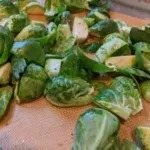 If you start with raw vegetables, they will not soften appropriately and you'll wind up with harder chunks of vegetable. While steamed vegetables will also work, roasting the Brussels sprouts will give you a more developed flavor and add some sweetness. Roasting vegetables is easy! Quarter the Brussels sprouts, toss the with avocado oil (or olive oil), salt and pepper and spread them out on a lined sheet pan or cake pan. Bake at 400 F for about 30 minutes and you're ready to go. Prosciutto is salty by nature, so if you're roasting the vegetables specifically for the quiche, you'll want to go easy on salting them.
Saute the prosciutto & green onions.
When you take the extra few minutes to saute the prosciutto and green onions together, you'll get more depth of flavor. I like to get the prosciutto just a little crispy. There's no need to add any oil, the fat will render from the prosciutto as you're cooking it.
Arrange the prosciutto, Brussels and cheese in the pan first.
Do not mix all the ingredients into the custard mix. Instead, spread out the prosciutto, Brussels sprouts and cheese in the pan. This is how you make sure that your meat and veggies are evenly distributed throughout the quiche. Now you don't have to worry about getting the right mix of meat, vegetable and cheese in every slice. Once arranged, pour the whisked eggs and milk into the pan.
Prosciutto Quiche with Roasted Brussels and Cheddar Recipe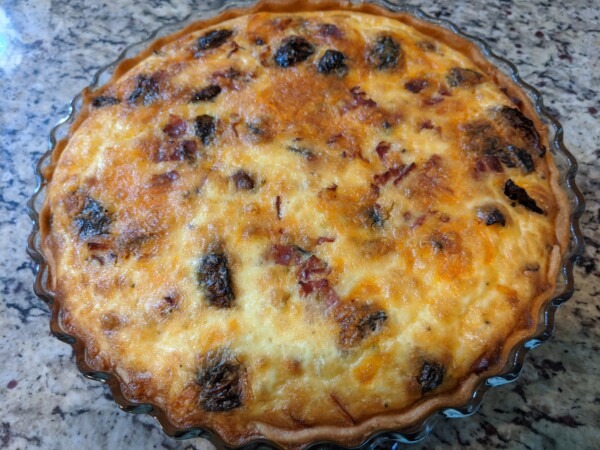 Prosciutto Quiche with Roasted Brussels and Cheddar
PRINT
Ingredients
1

cup

roasted Brussels sprouts, quartered

1

cup

prosciutto, diced

1/3

cup

green onion, thinly sliced (about 3)

1

cup

sharp cheddar, shredded

4

eggs

2

cups

heavy whipping cream

1/4

tsp

sugar

3/4

tsp

salt

1/4

tsp

black pepper

1

pie crust
Instructions
Preheat oven to 425 F. Arrange pie crust in quiche pan.

Over medium-high heat, saute prosciutto and green onion approximately 5 minutes until prosciutto is slightly crispy.

Evenly distribute cooked prosciutto and roasted Brussels sprouts over pie crust. Sprinkle with cheddar cheese.

In a small mixing bowl, whisk together eggs, cream, sugar, salt, and pepper. Pour custard mixture over the vegetables, meat and cheese.

Bake in 425 F oven for 15 minutes, then reduce the temperature to 300 F and bake for 30 minutes more. Quiche is ready when a knife inserted 1" from edge of pan comes out clean.

Cool for 10 minutes before cutting and serving.
Notes
Recommended Products:
Oxo 9" Whisk
Quiche Pan
Mixing Bowls
RECOMMENDED PRODUCTS
As an Amazon Associate and member of other affiliate programs, we earn from qualifying purchases.