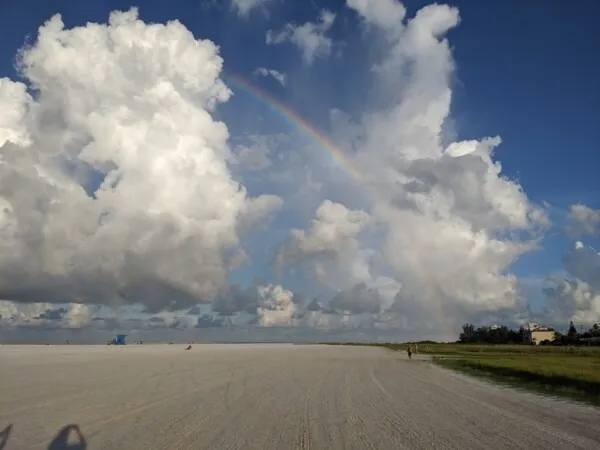 Dear Amanda,
I saw this rainbow this morning while walking the beach and thought of you. I also miss our travels and our old life. I'm thankful I have this amazing beach basically at my doorstep – I just wish you were here with us!
This mad, mad world is just crazy town. Never have I felt more stuck in my suburban mom life. My travel wings are clipped and I'm home ALL THE TIME with my kids. They're fun and interesting but there are times I just want to hide in my closet with a bottle of wine.
I'm itching to go somewhere and am deep into researching how to safely and ethically travel with my brood. Separate post to come with my results. We're hungry for new places and new experiences. After almost 5 months cooking 95% of our meals, I've come into the doldrums of cooking. I'm bored and tired of it all.
We're safe at Fort Camp Van Pelt. Our area has a lower COVID rate that the rest of Florida. I'm keeping the kids home and doing virtual school for the Middle and homeschool for the Youngest. While Eldest is technically freeloading at this point (graduated, no job), he's my relief valve with the younger 2, cooking, and household chores. Thankfully, he rather cheerfully chips in.
See? This is my life now. I'm not writing you about fun places and fun food. It's just that stay at home mom life. And we can't even do our neighborhood mimosa mornings any more. At least we're all healthy here, and that's a major bonus.
Stephanie