It All Started on a Cruise in Europe…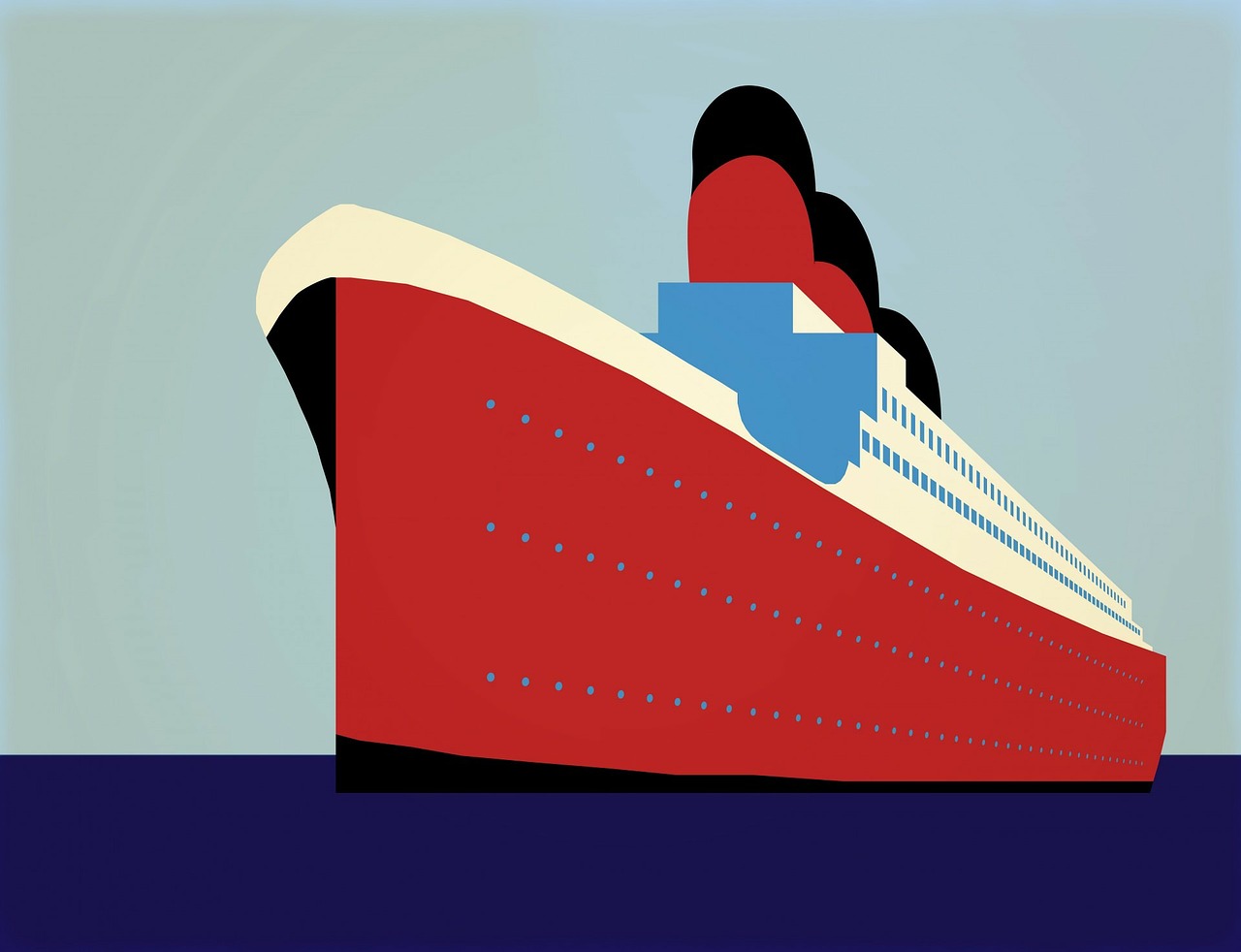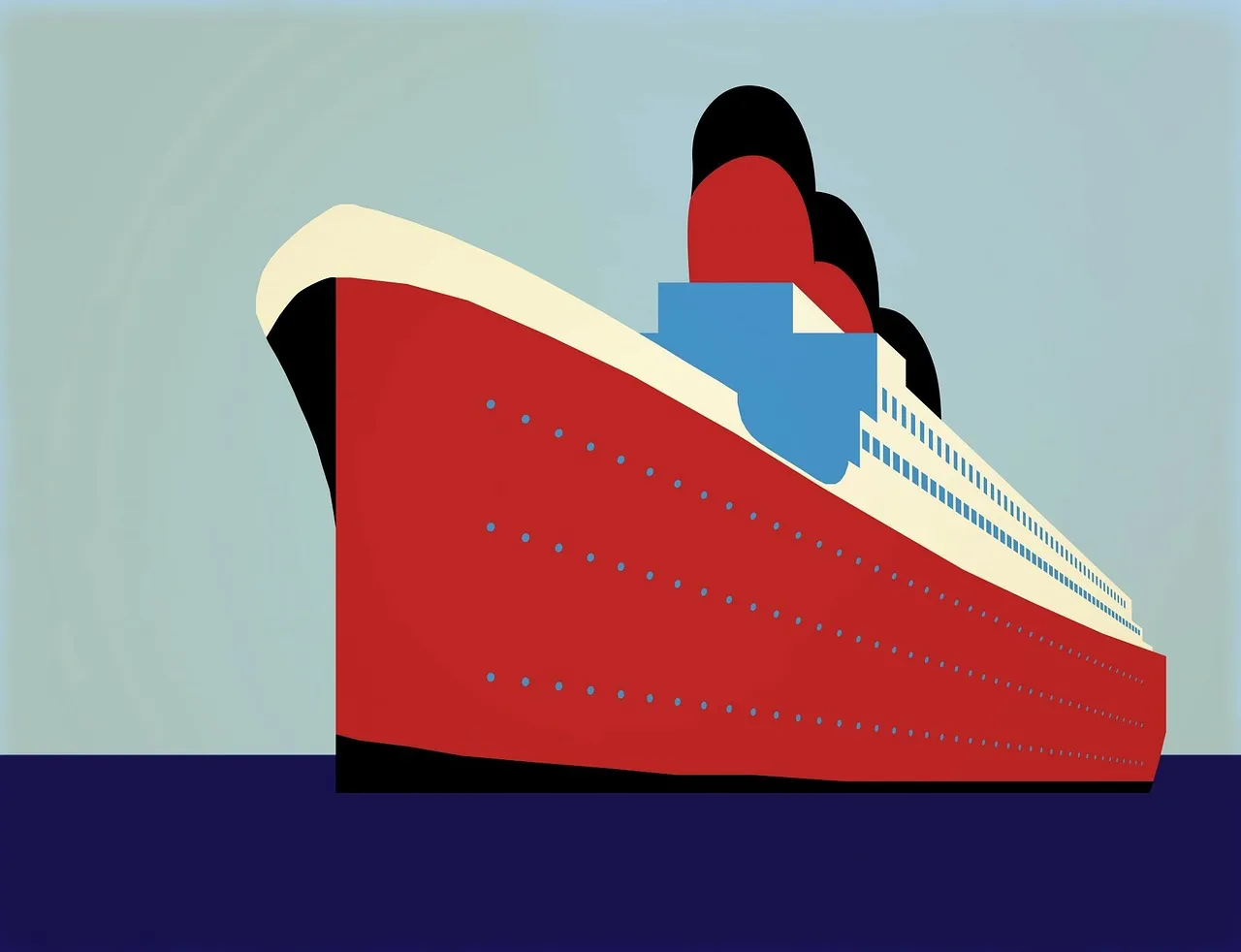 Bread pudding with rum sauce all started when I was 12 and my family went on a European cruise. It was late September, and school had already started. It was fabulous because my sister and I were the only 2 kids on the entire ship. The entire staff doted on us, and my over-protective parents relaxed entirely when they realized they could ask literally any person on the ship where we were and instantly know.
Jump to Recipe
It was on this cruise that my family first discovered the joy that is bread pudding with rum sauce. You see, my mother is a Type 1 diabetic and not really into sweets. Yes, she did some baking, but she wasn't creative and had no interest in eating any of it. My sweet-toothed nature was instantly enraptured at this glorious, new-to-me delight. Both my dad and I were so impressed with this dessert that we asked the cruise line for the recipe. And they gave it to us!
So easy to make, even a kid can do it!
My dad's birthday is on Christmas day. And so, just a few short months later my 12 year old self decided to make my dad the beloved bread pudding with rum sauce as a birthday present. This American girl had to convert the metric measurements, but bread pudding is truly home cooking and quite easy, although a bit time-consuming.
And here we are, 30 years later with the holiday requirement of piping hot, fresh from the oven, bread pudding with a lovely boozy rum sauce floating on top.
What exactly is bread pudding?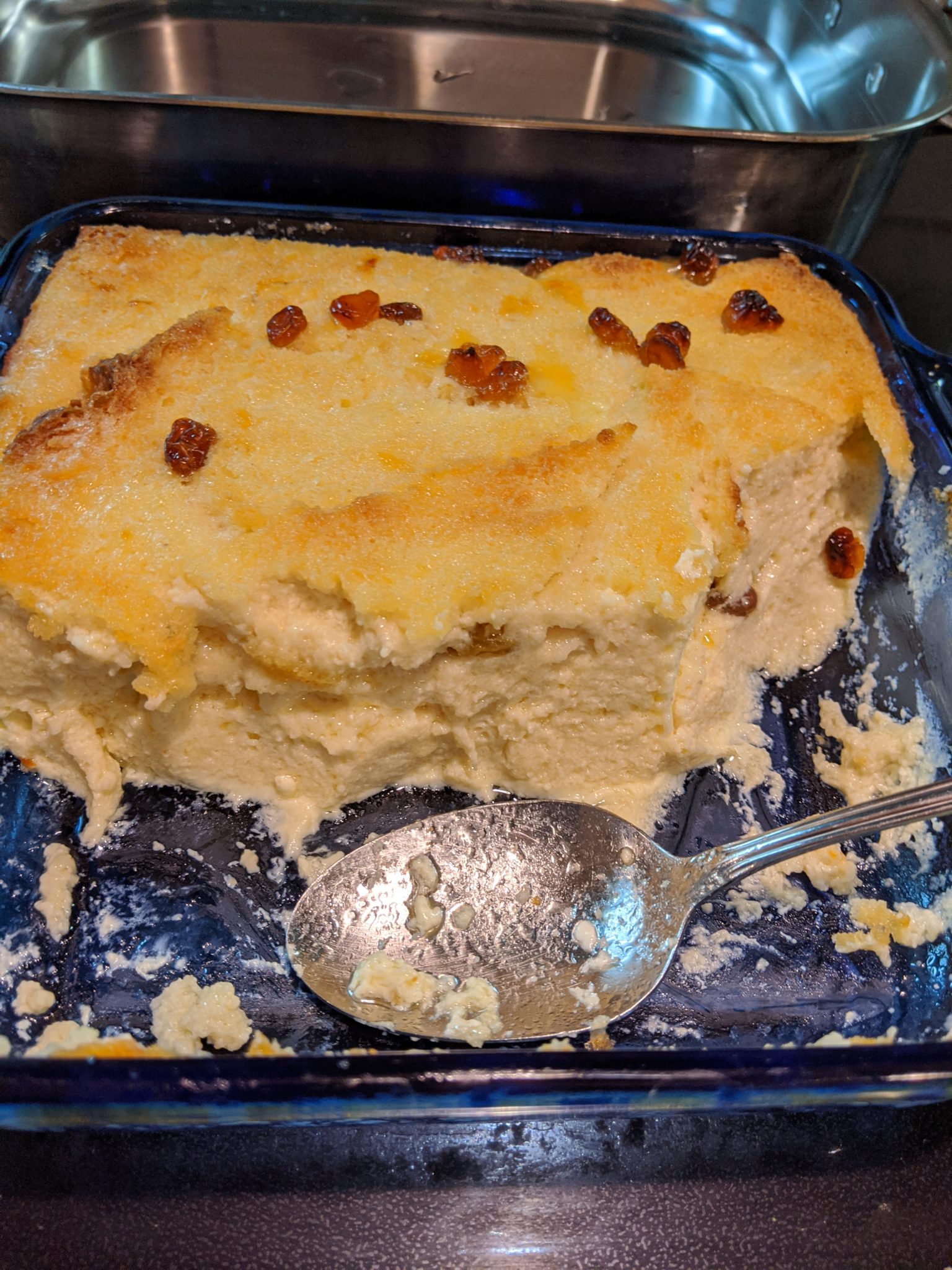 If you've ever ordered bread pudding in a restaurant and received a dryish sliced loaf of something almost cake-like, then you haven't truly had bread pudding. Bread pudding is really a custard made from egg/milk soaked bread and sugar. It's critical to pour the custard filling over the layers of bread, sugar and raisins and just let the custard mix soak in and absorb into the bread. The layers are a bit messy, and you can just smoosh the triangles of bread into overlapping layers with sugar and fruit. Once the custard base is absorbed and baked, it'll result in a homogenous serving texture. The custard is done when it's still moist without being runny. No dry bread pudding in this house!
For this recipe, I start with a fresh loaf of butter bread and spread each slice with salted butter, trimming away the crusts. I've seen recipes that use croissants or even French bread. Once, I made a bread pudding with leftover orange-cinnamon rolls. From a home cook perspective, bread pudding is one way to use up leftover or stale pieces of bread.
Fruit-wise, my recipe calls for currants, but I really can't always find them. Currants are the smaller and more reddish cousins to raisins. I use whatever I have on hand, be it currants, raisins or golden raisins. I'd love to try a variation of dried cranberries or even raspberries, but my family does not react well to altering a Tried and True recipe.
But does bread pudding really NEED rum sauce?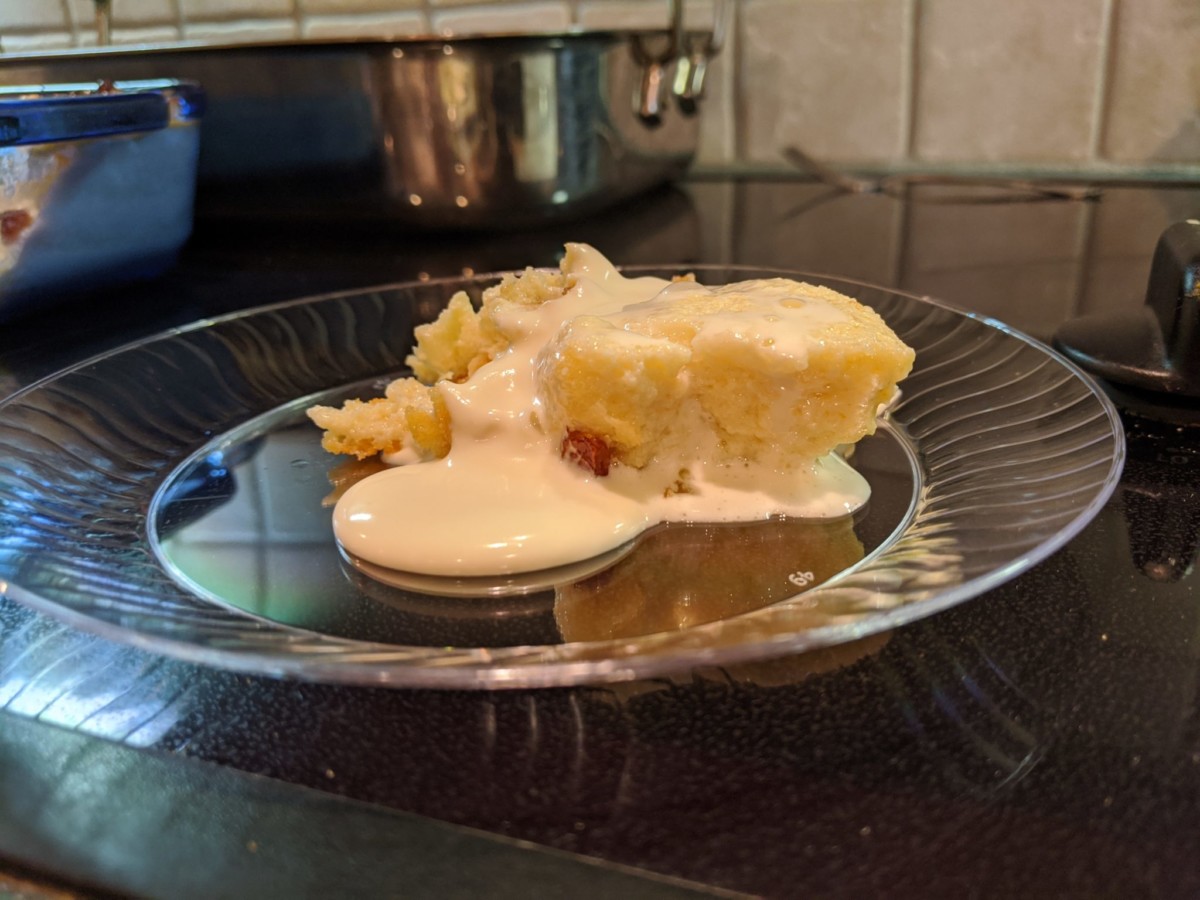 Speaking of the Tried and True recipe, bread pudding in our house requires rum sauce. I love this raw egg, whipped fresh cream sauce that we make with black spiced rum. The boozy component of the sauce balances the sweetness of the whipped cream and sugar. Without that punch of rum, the entire dessert just becomes a level of sweet on sweet.
The sauce final product is a bit fluffy and cool and melts deliciously over a warm spooned bread pudding, almost like ice cream on fresh, hot pie. So, yes, bread pudding NEEDS rum sauce.
A note on raw eggs: while I know many people are suspicious of raw eggs, we've had 30 years of success with this recipe. I just make sure to always use fresh eggs, and handle and storm them properly. The USDA considers raw eggs safe when treated properly.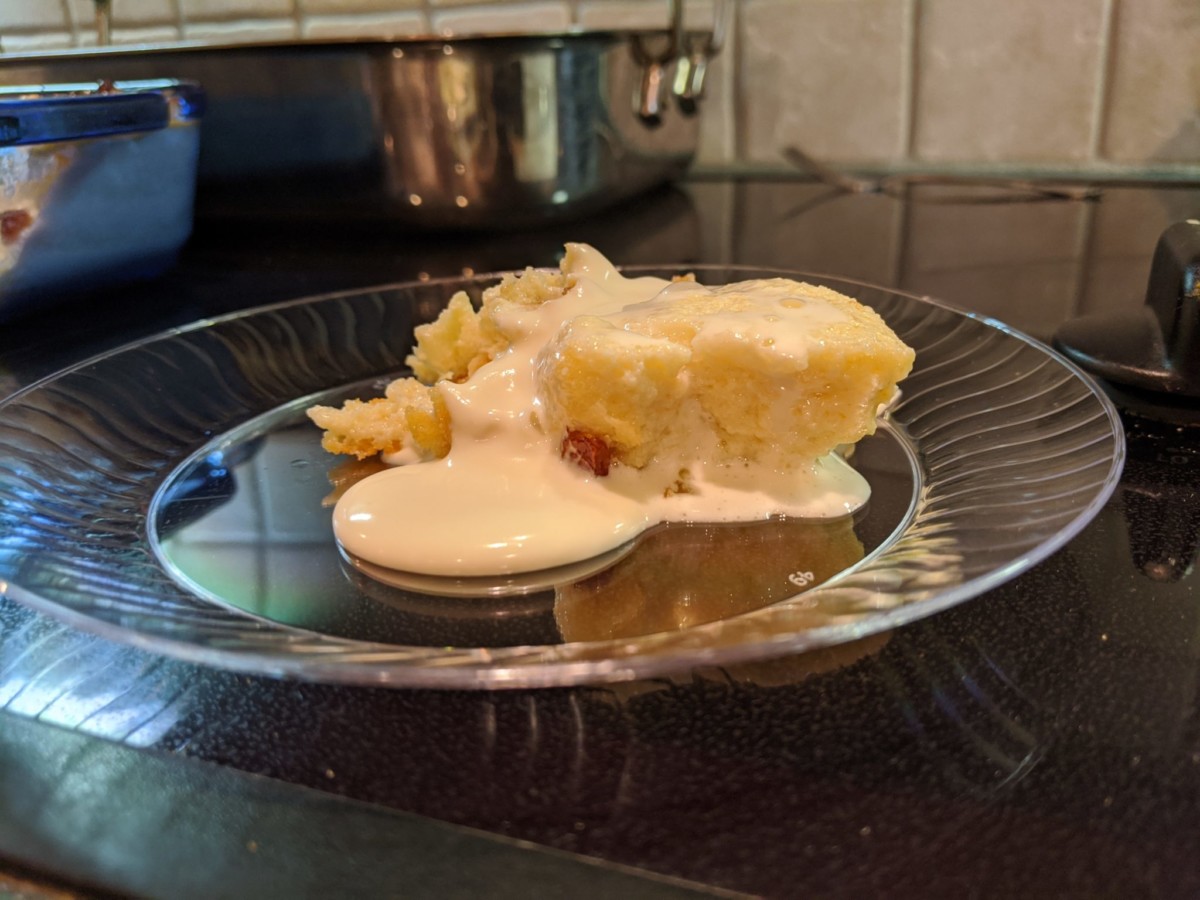 Bread Pudding with Rum Sauce
Custardy bread pudding with layers of bread, sugar and raisins topped with a fresh whipped cream rum sauce.
PRINT
Ingredients
Bread Pudding
1

loaf

butter bread

1

stick

butter, softened

4

Tbsp

sugar (approximately)

1/2

c

currants, raisins or golden raisins (approximately)

4

c

whole milk

1-1/2

Tbsp

sugar

5

eggs

1

tsp

vanilla
Rum Sauce
2

egg yolks

1

c

confectioner's sugar, sifted

5

Tbsp

rum (black spiced preferred)

1

c

heavy whipping cream

1

tsp

vanilla
Instructions
Bread Pudding
Grease glass 8x8 baking pan with butter.

Butter slices of bread. Discard heel ends and trim crusts off bread. If you like, reserve trimmed crusts for making bread crumbs or egg casseroles. Cut buttered bread into triangles and arrange in a single overlapping layer into prepared dish.

When first layer of bread is complete, sprinkle with 1 tsp to 1-1/2 tsp sugar. Sprinkle with a small handful of raisins (this can be varied to your preference).

Repeat layers 2 more times, for a total of 3 layers. You will have leftover bread, but should use most of the butter.

In a separate bowl, whisk together eggs and 1-1/2 Tbsp sugar. Whisk in milk and vanilla.

Preheat over to 350 F with rack in the middle to lower middle of the oven.

Carefully pour custard mixture over the bread layers. Let stand for 15-20 minutes.

Stand glass baking pan with bread pudding in a roasting pan of water. The water should reach halfway up the sides of the baking pan. Poach in oven about 90 minutes until the custard is set and is a light, golden brown. A knife inserted in the middle should come out clean. Serve warm, with rum sauce.

Store leftovers in the fridge, 2-5 days in a covered container.
Rum Sauce
While bread pudding is baking, prepare rum sauce.

Beat egg yolks. Add confectioner's sugar and beat until dissolved.

Add spiced rum, 1 Tbsp at a time, stirring after each addition until completely mixed.

In a separate bowl, beat heavy whipping cream until stiff. Fold in vanilla.

Fold egg mixture into cream mixture.

Spoon over warm bread pudding. Store in a tightly covered container in the fridge for 2-5 days.
RECOMMENDED PRODUCTS
8x8 glass baking dish

Roasting pan large enough to float baking dish

Whisk
RECOMMENDED PRODUCTS
As an Amazon Associate and member of other affiliate programs, we earn from qualifying purchases.