I cook almost every day. Yup. All the time. These are my top 10 kitchen gadgets for daily use (and a few odds and ends to go with them). I could survive as a cook without them, but no one would enjoy the results. They're my must haves and the items I miss the most when cooking in someone else's kitchen.
Kitchen Gadget #1: Cast Iron Skillet

The cast iron skillet is my #1 staple in my kitchen. When properly cared for, a cast iron skillet is non-stick and adds so much flavor to your food. I love to sear meat and then use the flavoring to sauté onions. In fact, it's how I make my London Broil so delicious. Get the recipe here. For those new to cast iron, the Kitchn has a wonderful article on caring for cast iron
Get it here: Lodge Cast Iron Skillet 10.25″
Kitchen Gadget #2: Skillet Scrapers
If you want to have a clean skillet, you need the right tool for cleaning it. I use these skillet scrapers on pretty much everything, not just cast iron! They're inexpensive and last forever. Unlike steel wool, they don't break down over time. I've had my skillet scraper for more than 12 years.
Get it here:  Pan Scrapers. Handheld Polycarbonate Cast Iron Pan Cleaners. (2-Pack. Red/Black)
Kitchen Gadget #3: Instant Pot
I use my Instant Pot at least once a week, and frequently more often than that. There's definitely a little bit of a learning curve. I use it for tried and true recipes with developed layers of flavor. What really boosts the flavor is that the Instant Pot has a sauté feature. When you start by browning the meat and softening the aromatics, your end result is so much more flavorful. You still have to allow time for the pot to come to pressure, but the Instant Pot lets you create flavors in an hour that normally take all day. For soups and stews, I still prefer to use the stove top so I can taste and alter as I go, but for the right dishes the Instant Pot is my preferred tool.
Get it here: Instant Pot Duo 7-in-1 Electric Pressure Cooker, Slow Cooker, Rice Cooker, Steamer, Saute, Yogurt Maker, and Warmer, 6 Quart, 14 One-Touch Programs
Kitchen Gadget #4: Santoku Knife

What can I say? A good knife is basically the singular most important tool in the kitchen. My husband recently gifted me this Wusthof santoku knife. It's surprisingly light weight, which had me a bit nervous at first. I kept putting off buying a knife because I wanted to hold it in my hands and feel the heft. When I opened up this knife I was very concerned that it wasn't heavy enough. I've been pleasantly surprised at just how much I love this lighter weight knife. It has plenty of heft and I don't tire as easily when chopping up large amounts of salsa.
Get it here: Wusthof 4183 Wusthof Classic Hollow Edge Santoku Knife 7, 7″, Black
Kitchen Gadget #5: Stainless Steel Spice Tin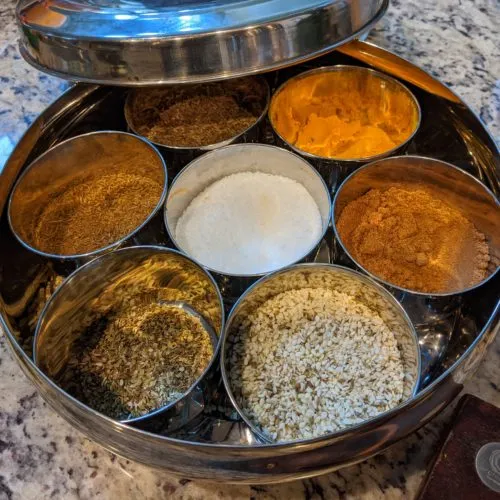 I don't know about you, but when I'm cooking I go through at least 3 to 4 spices in each dish. I dislike having to open up several little spice jars just to dish out a few teaspoons. Instead I put my most commonly used spices in one of these spice tins and I can access 7 of them by pulling off one lid. I keep a little spoon in there and just season away! As an added bonus, I actually use enough of these spices that I buy them in bulk and refill as needed. While this isn't the most space efficient storage option, it is the fastest way for me to access my daily use spices.
Get it here: Shradha Trading Stainless Steel Masala Box,Stainless Steel Spice Box, Stainless Steel Masala Dabba, Stainless Steel Spice Container, Indian Spice Box, Kitchen Spice Box, Spice Box for Chefs
Kitchen Gadget #6: Wooden Cutting Board
I once was afraid of the wooden cutting board. You can't put them in the dishwasher and I was worried that the board wouldn't be sanitary without. I am happy to report that I was wrong!
It's still a good idea to have a separate cutting board for your meats and your veggies, but wooden cutting boards are just as safe as plastic ones. Wooden cutting boards are also much better for your knives, helping them to stay sharper, for a longer period of time.
Greener Chef Extra Large Bamboo Cutting Board – Lifetime Replacement Cutting Boards for Kitchen – 18 x 12.5 Inch – Organic Wood Butcher Block and Wooden Carving Board for Meat and Chopping Vegetables
Kitchen Gadget #7: Microplane
Quite seriously the microplane was a total game changer in my kitchen. Need to zest a lime? Check! Want to mince some ginger or garlic? We've got you covered. Love freshly shredded Parmesan cheese on your pasta? Bingo! Want some freshly ground nutmeg? Once again, you've got it.
The microplane is an inexpensive, versatile tool worth a place of honor in any kitchen.
Get it here: Microplane 46020 Premium Classic Series Zester Grater, 18/8, Black
Kitchen Gadget #8: The Kitchen Aid
Yes, yes I know it's really called a stand mixer and that Kitchen Aid is the brand. But let's be real here. I say "The Kitchen Aid" and everyone already understands exactly what I mean. They're expensive, but they are worth every single penny. I had never splurged on one for myself. I longed for one, but I just didn't do quite enough baking to ever justify spending the money on it.


And then, I met my husband.
Let me tell you that when I helped him move out of his house and into mine….I discovered that he owned a Kitchen Aid stand mixer. I joke that I married him for his Kitchen Aid, but it's maybe only half a joke? The best thing about this mixer is that it's his mom's old mixer that she had in Congo more than 30 years ago. Yes indeed, this stand mixer is still going strong after more than 30 years and a transcontinental trip (and back!).
For Father's Day this past year I gifted my husband the pasta attachment, but I really feel that wound up being a gift back to myself. Mmmm, homemade pasta.
Don't hesitate like I did – do yourself a favor and get one for your own kitchen: KitchenAid KSM75SL Classic Plus 4.5-Qt. Tilt-Head Stand Mixer, Silver
Kitchen Gadget #9: Magnetic Measuring Spoons

The need for measuring spoons in the kitchen is self explanatory. I doubt you'll find a kitchen out there (with at least one person who cooks in the house) that doesn't have a set of measuring spoons. What I particularly like about this set is that they're magnetic and stay together while being stored. I don't need to root around my junk drawer trying to find the right sized spoon – they're all there in a happy little set easy to locate. They're also double-sided, with one rounded side and one oblong side. If I need to measure different things with the same spoon I can just flip it around. The different shaped spoons also come in handy for different shaped jars, etc.
Get it here: Julance Magnetic Measuring Spoons Set, Stainless Steel, Upgraded Colourful Dual Sided Teaspoon Set, Fits in Spice Jars, Tablespoon Set for Measuring Dry and Liquid Ingredients, Set of 6
Kitchen Gadget #10: Silicone Baking Mat
I'm on a huge push to reduce waste in my kitchen. I also love to roast vegetables multiple nights a week. I was tired of throwing away tin foil multiple nights a week and invested in a silicone baking mat. While I did have to adjust my cooking temperature and time a bit, I love that we've moved to a reusable option. As an added bonus, when my husband decided he wanted to make French macarons, we already had the silicone baking mat and he just went with his whim. Holy cow are they delicious and I was so glad I had the right tools on-hand to capitalize on his mood.
Get it here: AmazonBasics Silicone Baking Mat Sheet, Set of 2
What are your favorite kitchen gadgets? Which items did you splurge on? What can you just not cook without?