For several years I have searched for the world's best lasagna recipe and can thankfully say that after much trial and error, this here is in fact it.Jump to Recipe
Look how gooey yummy that is!
I love this meat sauce. If I want to impress someone with spaghetti and meatballs, this meat sauce recipe is also my go to. It's just so good. This meat sauce uses a mix of both beef and local Canadian german oktoberfest pork dinner sausages. You non-Canadians are looking for a sausage that is mild and has black pepper. This Canadian version also has oregano.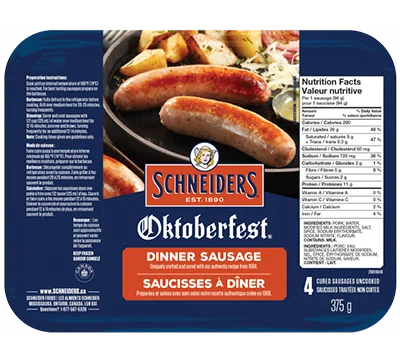 You could use italian sausages or ground pork if you prefer and add some pepper and a sprinkle of oregano. You want to cut the skin casing off each sausage and push out the pork insides. When it cooks up it smells just like bacon. For the ultimate delicious, meaty, lasagna taste you don't want to leave the pork part out. Trust me. This pork addition is really what makes this meat sauce super awesome. Some extra beef can work if your prefer or your diet requires. Just remember to add some extra meat so you have enough meatiness.
This recipe also uses a homemade parmesan white sauce for extra ooey gooey cheesy goodness. This is a little bit of extra work, but it adds such a rich cheesy flavor that you don't get from just sprinkling in cheese. Mix it with Ricotta and shredded mozzarella for the ultimate cheese explosion of flavor.
Surprise, You also sneak a carrot in there. Extra veggies is good. The carrot will add a more complex flavor to your meat sauce, as well as a little bit of sweetness. The carrot will also counteract the acid in the tomato sauce making it have less of that tangy tomato acid taste. It also can help thicken your sauce a bit. That's a lot of magic from one little carrot.  You will notice a difference. You can adjust the amount of sugar you add for your taste. The listed amount is my preference.
You can use fresh or dry sheets or strips of pasta. If you use dry pasta, you will need to time it so it cooks when your meat and cheese sauce is done. Easy peasy.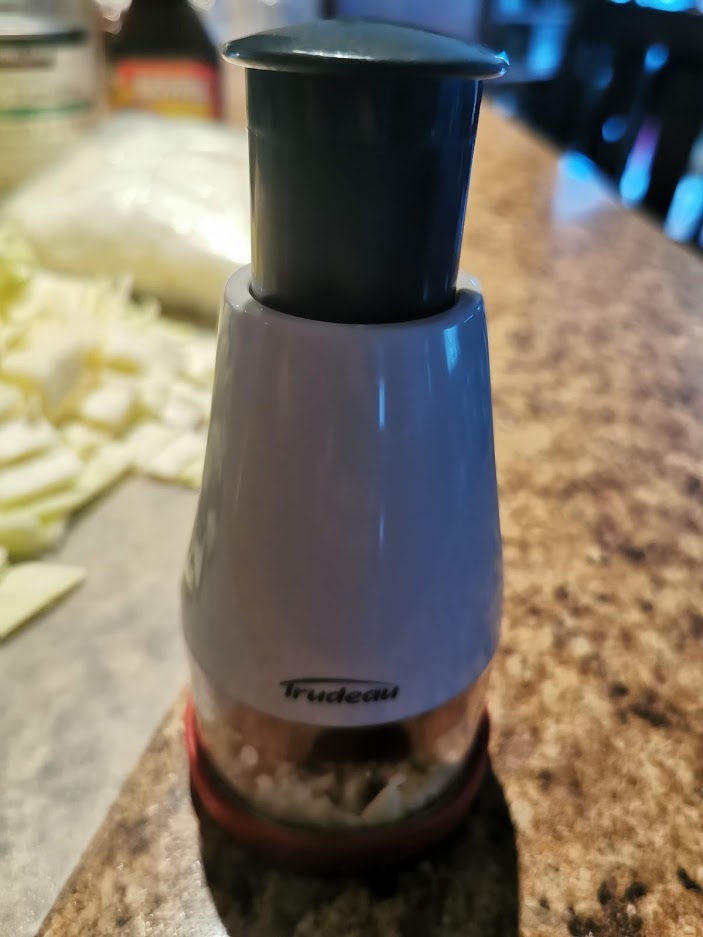 I also absolutely love my little garlic chopper. You crush the garlic with a knife and place the whole cloves in the little machine. You simply push the handle down and it zig zag rotates and chops the garlic easily. No squeezing through a press. No mincing with knives. No garlic juice on your hands. I love it. Here is a similar one from amazon.

Let's get to making my World's Best Lasagna.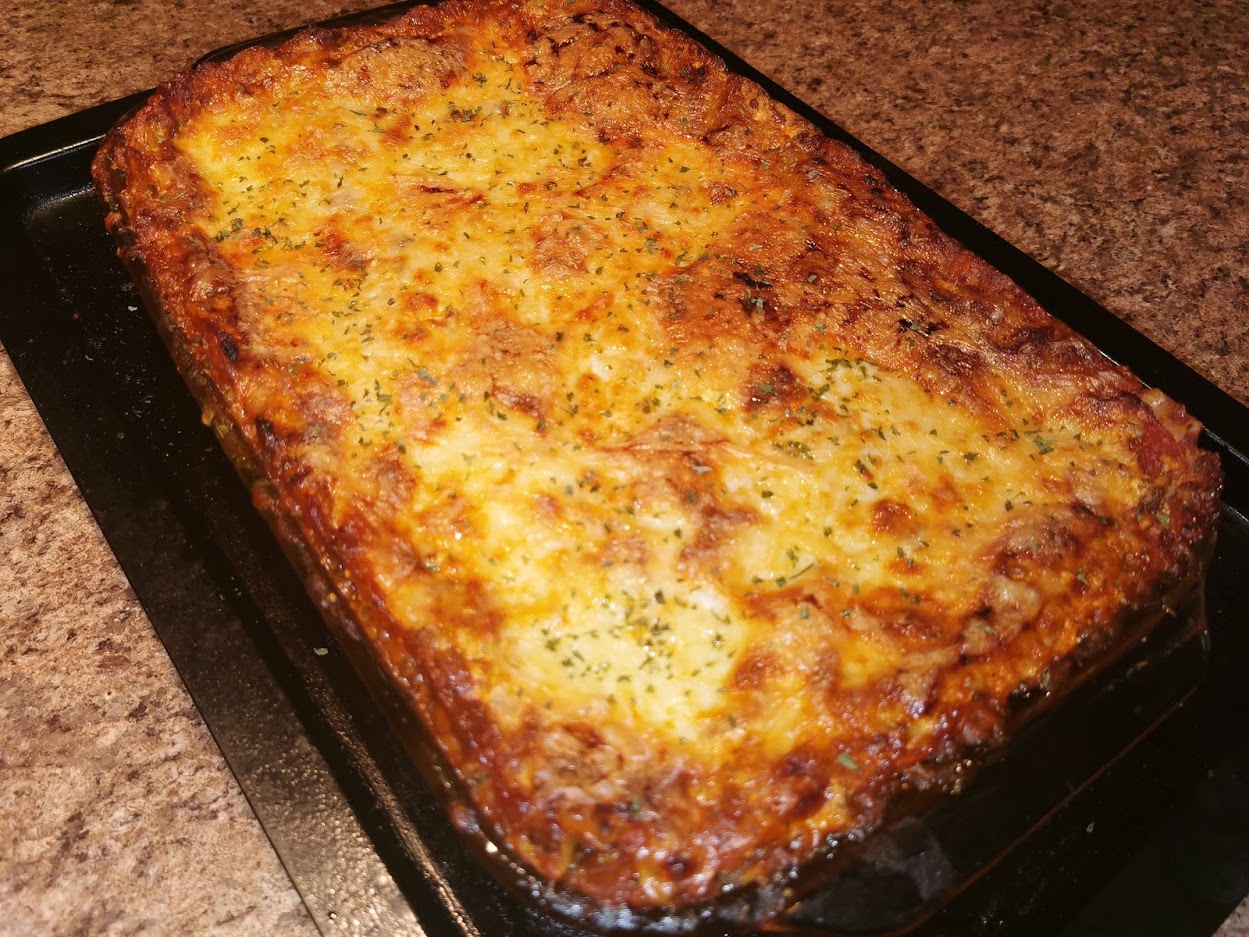 World's Best Lasagna
PRINT
Ingredients
Meat Sauce
1

tbsp

olive oil

1

onion

,

finely chopped

3

cloves

garlic

,

chopped

1

carrot

,

diced

700

grams

ground beef

300

grams

german or italian sausage

,

without casing, or ground pork instead

1

jar

Tomato pasta sauce

,

650ml

1

can

tomatoes with liquid

,

diced or canned 500mlish

1/2

can

tomato paste

,

150ml

1

cube

beef bouillon

1

tsp

basil

1

tsp

oregano

1/2

tsp

sugar

salt and pepper
White Cheese Sauce (Bechamel)
4

tbsp

butter

1/4

cup

flour

,

all purpose is fine

3 1/2

cups

Milk

1

cup

parmesan

,

fresh or canned
Lasagna
12

strips

lasagna

,

fresh or dry. If using sheets you will need 4

2

cups

mozzarella cheese

,

shredded

1

container

ricotta cheese

,

This is optional if you can't find it, but it is good!

2

tbsp

parsley

,

dried/fresh chopped
Instructions
Meat Sauce
If you are using sausages, remove the pork innards from the casing. Thaw beef if required.

Hit oil in large pot on medium heat. Add in carrot and onion and allow to soften about 10 minutes. Add in garlic and cook for about a minute.

Add beef and pork mixture. Break this up with a spoon. Cook until it is browned.

Add crushed tomatoes and their liquid, jar of pasta sauce, tomato paste, crushed beef bouillon, basil and oregano. The size of these jars is really your preference. If you like a more tomatoey taste feel free to add larger sizes or smaller etc.

Mix well. Bring to simmer.

Add sugar, salt and pepper as needed to taste.

Cover, stir occasionally and cook for at least 20-30 minutes. Sauce should thicken.
Parmesan White Sauce
In large pot, melt butter over medium heat.

Remove from stove, add in flour and wisk for about 1 minute. Make sure it is well blended.

Return the pot to the stove and reduce the heat to low.

Slowly add 1 cup of milk at a time until combined. Continuing adding milk slowly. Mix well and stir constantly. There should be no lumps

Increase the heat to medium and stir occasionally until the sauce gets nice and thick. It should cover the back of your spoon like in the photo. About 8 minutes.

Add parmesan cheese and remove from heat. Continue to stir until melted. Add salt and pepper to taste. Set aside.
Dry Pasta
Add dry pasta to boiling water and a small amount of olive oil to help with sticking.

Cook for about 7-10 minutes. These don't need to be completely done as they will cook a little bit in the assembled item. Set aside. Try and time these to be done when all your other items are as well. They may stick. Be gentle with them.
Putting it all together
Preheat oven to 350°F | 180°F.

Start by putting 1 thin layer of meat sauce on the bottom of a 9 x 13 baking dish.

Cover with 3 strips of Lasagna or 1 sheet. Trim to fit if needed.

Cover pasta layer with meat sauce

Cover meat with 1 cup of white sauce, several scoops of Ricotta cheese (if using). Blend cheese layer together lightly to edges with a spatula. Just smear it all together in little swirls. Add in about 1/3 of your mozzarella cheese. Make sure you leave at least half of the remaining mozzarella cheese for the very top layer. This is what will make it nice and bubbly.

The last layer should be Pasta->Meat Sauce ->White sauce & Ricotta ->solid layer of mozzarella cheese.

Bake for 25-35 minutes.Watch it. You want nice and lightly browned top and cruchy tomato sides around the edge.

The cheese should be well melted. If it is not golden and bubbling then put under the broiler for a few minutes when finished cooking.

Tomato sauce may bubble out the sides and into your oven. You can put a baking sheet underneath, but this may affect cooking time. Expect to add up to an hour.

Let cool for at least 10-15 minutes. This will be as hot as lava. 😉

Garnish with parsley and serve! SO GOOD.
RECOMMENDED PRODUCTS
As an Amazon Associate and member of other affiliate programs, we earn from qualifying purchases.
I hope you enjoy and give this a try. Do you have a favorite meat pasta sauce?
Regards,
Amanda