As we live life with a stay at home order, during the time of coronavirus I'm getting both increasingly bored with my own cooking and increasingly creative. I'm struggling with the Middle's quirky and picky eating habits and trying to throw dinner on the table with ingredients I have on-hand. Today we had a big hit with this creamy tomato chicken that I made in the Instant Pot.
Tomatoes, tomatoes, tomatoes
With the closure of so many restaurants, the local tomato farmers have found themselves with a surplus. We managed to snag 25 pounds of tomatoes for a whopping $5! I've posted the recipe using fire-roasted canned tomatoes, but today I didn't have the canned variety. Instead I diced up 8 tomatoes and broiled them until a bit charred. They reduced down to about 4 cups and were perfect in my recipe.
The regular tomatoes were a bit underride, so I stuck them under the broiler for about 10 minutes. I also had a red pepper that was about done with life and I charred it as well. I removed the skin for this recipe. While you don't need to remove the skin, it makes for a creamier sauce in the end. If you're using jarred red peppers, the skin will already be removed. The red peppers were ready to come out a bit earlier than the tomatoes, so if you're broiling fresh, check them often.
Cooking in the Time of Corona
What's really great about this recipe, is that you can pretty easily swap out ingredients based on what you have fresh/pantry. I had fresh tomatoes, red pepper and rosemary on hand, but you can use the pantry equivalents on all of these. If you've scored some canned tomatoes, they'll work equally as well. Have some fresh spinach on hand? Wilt that in. There are endless possibilities depending on what you have on hand and what your family enjoys.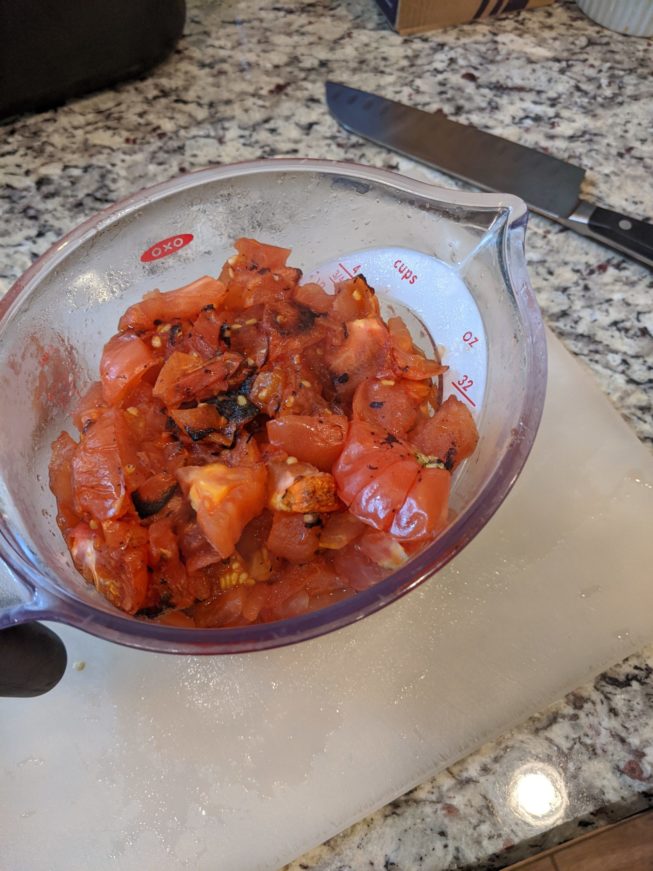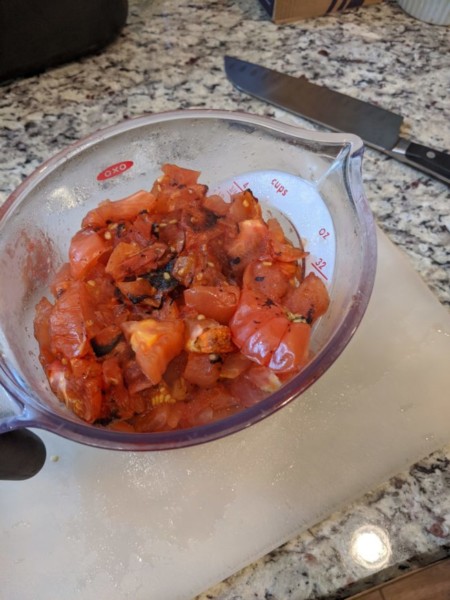 The key to my creamy tomato chicken here is a unique flavor combination of tomato, rosemary and coriander. I've been pretty bored with my regular repetition of ingredients and stood there in the kitchen, sniffing all 3 together before I decided to throw them all in the pot. It was a risk, the Middle is notoriously picky. But the flavors came together wonderfully and the recipe was officially Middle Approved. He told me it tasted like a wonderful mix of tomato bisque soup and spaghetti sauce. We saved half the sauce to serve over pasta later this week.
How to Make Creamy Tomato Chicken
For this recipe, I borrowed heavily from my Instant Pot Butter Chicken recipe. I started with the same basic steps of softening the aromatics and then adding in the spices. Like my Butter Chicken, you cook the tomatoes and chicken under pressure and then later use an immersion blender to create a creamy sauce.
I like to serve my saucy, creamy tomato chicken over roasted cauliflower, but it also works wonderfully with pasta, rice, mashed potatoes and spaghetti squash.
Tools of the Trade
For this recipe the only extra "special" equipment you need are an Instant Pot and an immersion blender. For an immersion blender, I particularly like a set that includes a few different attachments. It's nice to have a quick, lightweight way to process a small amount of food or quickly whip eggs. I also have a stand mixer, but sometimes you just don't want to dirty up the big ol' bowl for a small job. Get it here.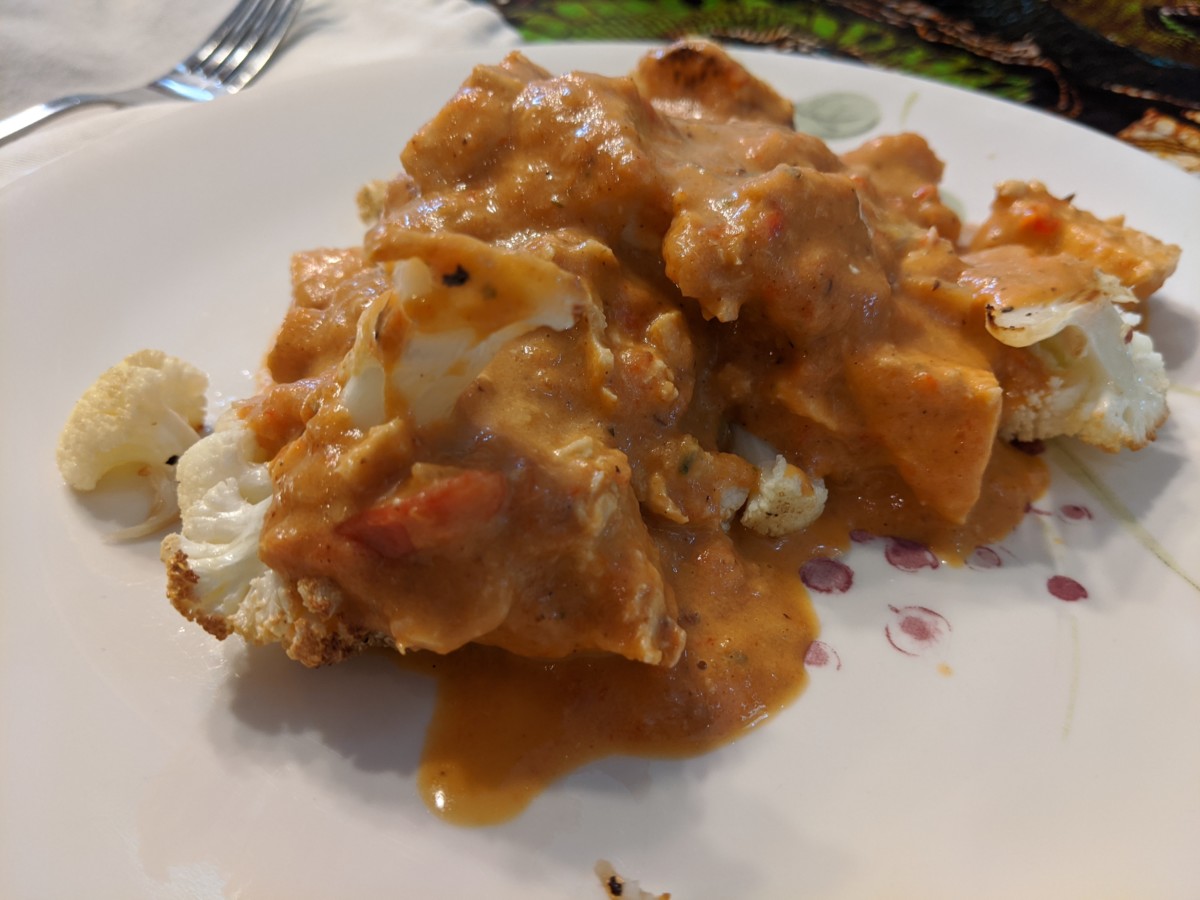 Instant Pot Creamy Tomato Chicken
Easy weeknight meal using tomatoes, cream cheese and chicken
PRINT
Ingredients
3

Tbsp

butter

1

onion, rough chopped

4

cloves garlic, rough chopped

1

tsp

salt

1

roasted red pepper, skin removed

1-1/2

tsp

ground coriander

1

tsp

dried oregano

2

sprigs fresh rosemary

28

oz

diced tomatoes, fire roasted

1/2

c

dry red wine

2

chicken breasts, boneless & skinless

6

oz

cream cheese, roughly cubed
Instructions
Set Instant Pot to sautee function and melt butter. Stir in and sautee until soft onions, garlic, salt and roasted red pepper.

Stir in dried coriander and fresh rosemary. Cook one to two minutes, stirring constantly to bloom the spice and herb.

Stir in tomatoes, red wine and oregano. Add chicken and cream cheese. Give everything a stir to combine.

Add the lid to the Instant Pot and cook on high pressure for 20 minutes. Allow the pot to naturally release for 10 minutes.

Remove the chicken from the pot and set aside to rest. Remove any of the rosemary spines from the sauce. Using an immersion blender, blend until smooth. Chop chicken and return to sauce. Serve over pasta, rice, cauliflower rice or spaghetti squash.
Notes
This recipe adapts easily. If you don't have cream cheese on hand, omit the cream cheese but stir in 1/2 cup of heavy cream or plain yogurt at the end. This recipe would also be delicious with spinach wilted in at the end. For an extra punch, stir in some sun dried tomatoes and cooking sherry.
RECOMMENDED PRODUCTS
Instant Pot/pressure cooker

Immersion blender
RECOMMENDED PRODUCTS
As an Amazon Associate and member of other affiliate programs, we earn from qualifying purchases.