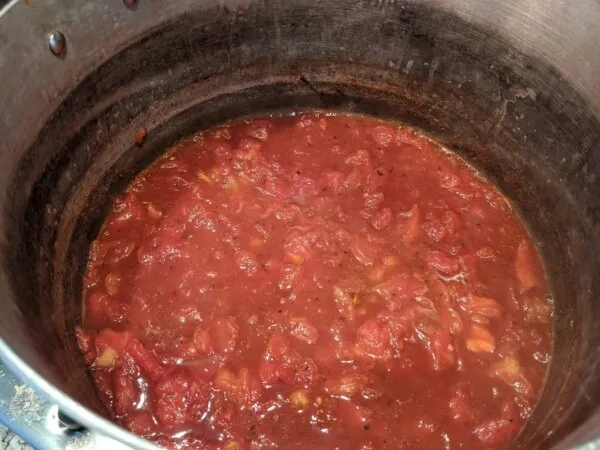 What better way to use up some fresh summer tomatoes than with an easy tomato bisque? Classic tomato soup is always such a great comfort food, but it really doesn't take much more effort to elevate it to a rich, decadent tomato bisque. Since it's such a huge hit with my kids, I went on the quest for the right recipe.
Easy tomato bisque is all about the right tools and techniques
The first recipe I tried called for removing the skins and seeds with a food mill. But I didn't have a food mill and painstakingly peeled the tomatoes with a potato peeler and removed the seeds by hand. Then I diced the tomatoes and continued. The resulting bisque had some lovely chunks of tomatoes and was a huge hit. It just took me forever to peel the tomatoes. And then, I went on a quest for a food mill.
The next batch of tomato bisque went super fast and was quite easy! But, it made for a very smooth and uniform soup. We found that we preferred the chunkier version. You should experiment with my easy tomato bisque recipe and see what your family prefers.
How to easily peel the tomatoes
If, like us, you prefer a chunkier version of the soup I've found it's much easier to peel the tomatoes by blanching them. Make an x-shaped slice on the bottom of the tomato and drop into a large pot of boiling water. When you see the skins split (about 30 seconds) fish them out of the water. Let them cool a few minutes (or plunge into an ice bath) and then the skins just peel right off. I wish that I had learned this trick years ago – it's saved me so much time!
Let's talk about roux
The next important tool you'll need while making my easy tomato bisque is a good whisk. A key component in any bisque recipe is the roux. It's important to melt the butter and then add all the flour at once, whisking constantly. Cook for a minute or two (keep your whisk going!) to remove that raw flour taste. Then you slowly add your milk, whisking until fully incorporated. I like to add my fresh basil once the milk is all mixed in because the milk will infuse with the basil flavor. Pick up a nicely made whisk here.
I like to serve my tomato bisque with some fresh basil on top and with a side of a grilled cheddar cheese. If I'm feeling fancy I'll add a balsamic reduction drizzle.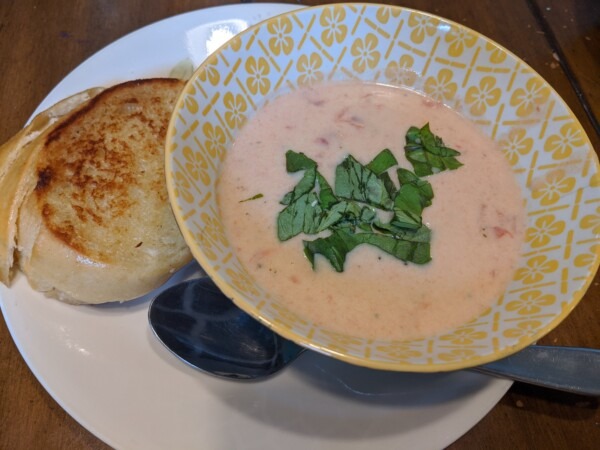 Want more tomato based recipes? Check out my Creamy Tomato Chicken recipe or my Butter Chicken recipe.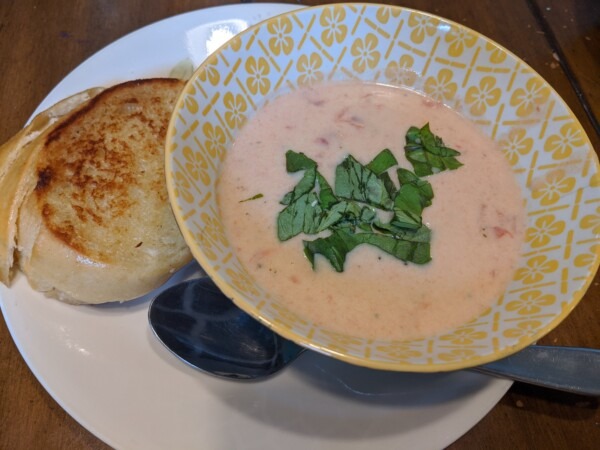 Easy Tomato Bisque with Fresh Tomatoes
Classic tomato soup is always such a great comfort food, but it really doesn't take much more effort to elevate it to a rich, decadent tomato bisque. 
PRINT
Ingredients
2

lbs

tomatoes

2

tsp

beef bouillon base

1

Tbsp

white sugar

1

tsp

salt

1

bay leaf

1/4

tsp

ground black pepper

1/2

cup

butter

1/3

cup

all-purpose flour

4

cups

whole milk

1/3

cup

fresh basil, chopped

,

plus extra for serving
Instructions
For a smoother texture, run the tomatoes through a food mill to remove seeds and skins. For a chunkier texture, blanch the tomatoes to remove the skins, remove seeds by hand and finely dice.

Place tomatoes in a large pot over medium high heat. Stir in the bouillon sugar, salt, bay leaf and pepper. Bring to a boil, then reduce temperature and simmer 30 minutes.

In a non-stick saucepan over medium heat, melt butter. Whisk in flour all at once to form a roux, cook 1 minute. Whisk in milk, a little at a time, cooking and stirring constantly. Once all milk is incorporated, add fresh basil. Continue cooking and stirring until thickened.

Stir milk mixture into the tomato mixture and heat through. Garnish with fresh basil and serve with a delicious grilled cheese sandwich.
RECOMMENDED PRODUCTS
As an Amazon Associate and member of other affiliate programs, we earn from qualifying purchases.