Jump to Recipe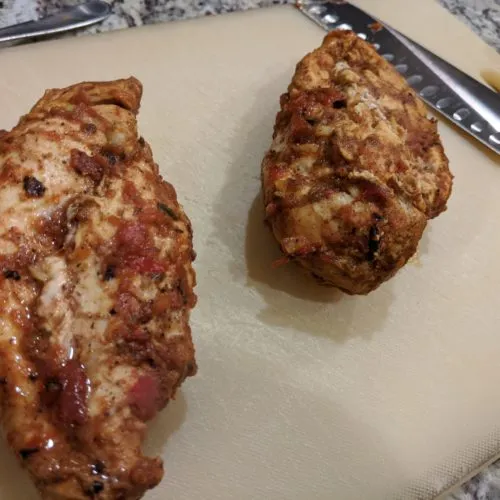 Yup, this is an Instant Pot recipe. I'm not an Instant Pot fanatic, but I do find that it's a helpful tool in my arsenal. For Instant Pot Butter Chicken, it's near perfect. And so, I've quested for how to make butter chicken in the Instant Pot. This recipe has gone through several revisions as I've made some key trial and error mistakes (and wins!).
The original version of this recipe called for only 2 pounds of chicken. For us, it was way too much sauce for the amount of chicken. I found I could easily double the chicken and keep the sauce ingredients the same for the perfect ratio for our family. This does make for a very large amount of food – which is perfect for hosting guests or bringing to a potluck!
The large quantity is not quite so perfect for a weeknight meal unless you're looking to meal prep. At times I cut back on the chicken and freeze half the sauce.
Let's Talk Spices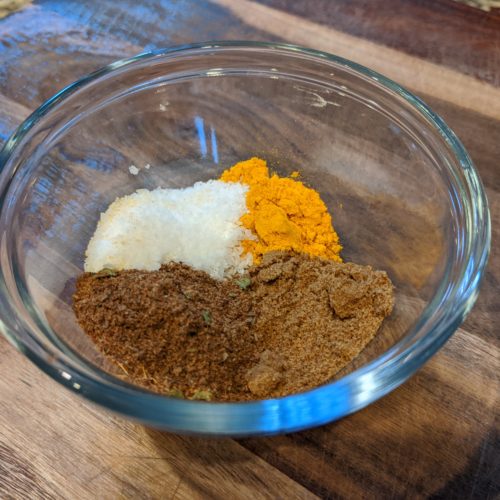 This past year I was fortunate enough to make friends with an Indian mom at my son's school. We met while volunteering and I mentioned how much I love Indian cuisine and how intimated I was at learning things like how to make butter chicken. While this is not her recipe (she's vegetarian), my success has come from things she taught me.
First and foremost, I've stopped buying blends. If you're new to Indian cooking, by all means, pick up some garam masala from the grocery store or Amazon. But the thing is, we use up SO MUCH of all these spices that we now blend it ourselves.
Get it here: Garam Masala Blend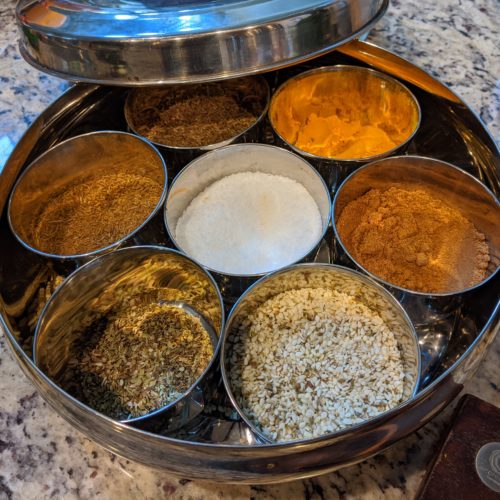 On one of her visits back to Indian she brought back a spice tin. I love that I can have my 6 most used spices available at once, without having to open a million little jars. We buy our spices either whole or ground, in bulk and then add to the tin as it empties. I really could use a second one. Every time I open up the tin, the heady fragrance comes blooming out and gets me all excited for that next meal. Luckily for all of us, they're easily available on Amazon. Get it here: Spice tin
A Few Tips & Tricks
When you get to the active phase of cooking aromatics and spices, it can be easy to burn the spices. I like to have the tomatoes open and ready so that if I feel the pan is getting too hot I can quickly dump the tomatoes into the pot. Be sure to scrape the bottom of the pot to prevent any scorching or burning of spices.
This recipe is gluten and soy free. I've also adapted it for my niece who cannot have dairy, using a dairy free butter and coconut yogurt.
You can add the yogurt/cream before pureeing with the immersion blender, but if the sauce is very hot it may curdle. I prefer to blend first and let some air cool off the sauce, then stir in my cream.
For a chunkier version, dice the onion and mince the garlic and ginger – then skip the puree step. I like that this recipe doesn't require a ton of fine chopping because the puree step handles it for you.
My other favorite part of this recipe is that there is minimal handling of raw chicken. I absolutely loathe having to chop up raw chicken. This recipe adds the whole breast raw, and then you chop after the meat is cooked. That makes for a happy Stephanie.
How to Make Butter Chicken in the Instant Pot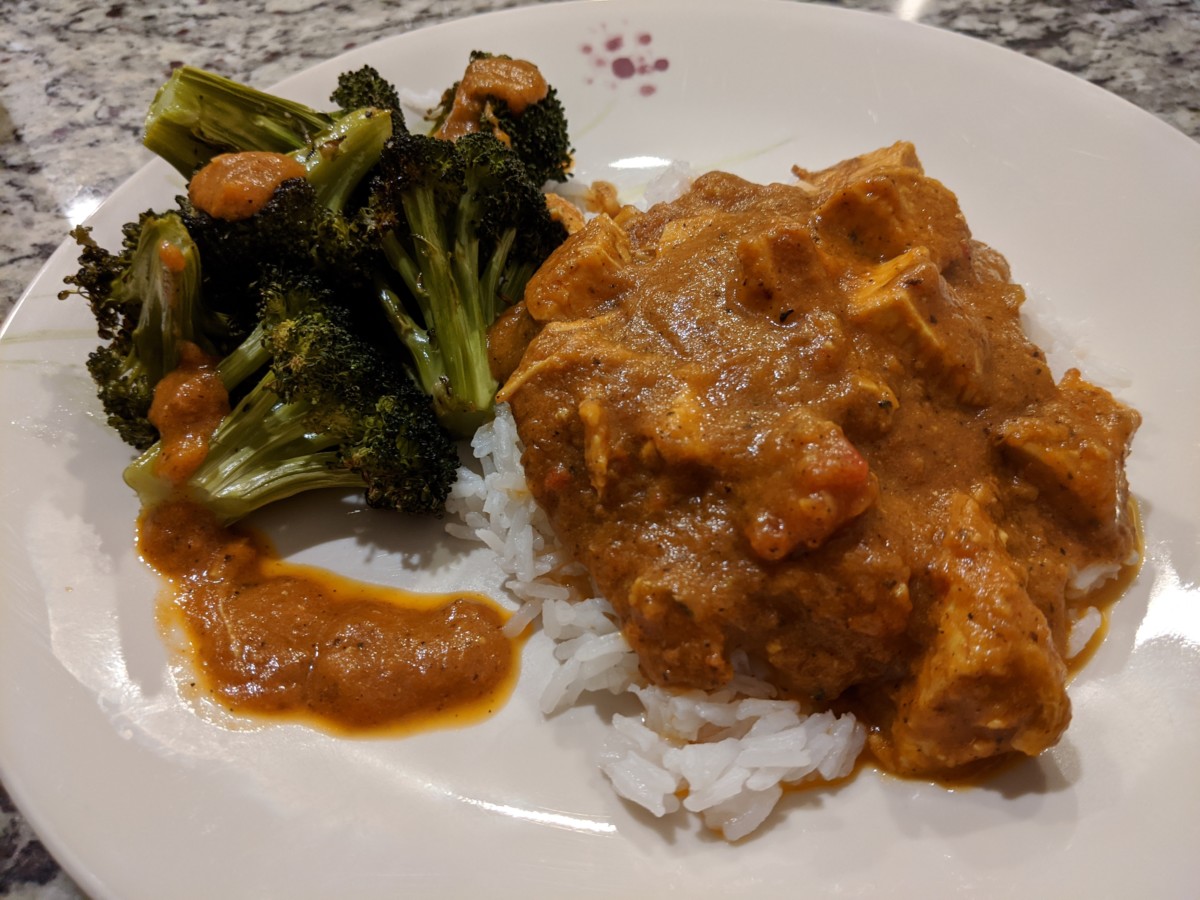 Indian Butter Chicken
Aromatic spiced Indian butter chicken. Can be modified for diary free. Gluten free.
PRINT
Ingredients
4

Tbsp

butter, divided

1

large

onion, coarsely chopped

4

cloves

garlic, coarsely chopped

1

2-inch

knob ginger, peeled and coarsely chopped

1

Tbsp

garam masala (heaping)

1/2

Tbsp

ground coriander

1/2

Tbsp

ground turmeric

1/2

Tbsp

kosher salt

1

28 oz can

diced tomatoes

,

(Muir Glenn Fire Roasted)

4

lbs

boneless, skinless chicken

,

(can be your choice of breasts or thighs)

1/2

cup

heavy cream, plain yogurt or coconut yogurt
Instructions
Remove the lid of the can of tomatoes and set near the pressure cooker. Set pressure cooker to sauté and melt 2 Tbsp of butter.

Add onion, garlic and ginger. Sauté, stirring regularly until the onions soften and begin to brown, about 4 minutes. Add garam masala, coriander, turmeric and salt. Cook, stirring constantly until fragrant, about 1 minute.

Add diced tomatoes and their juices and stir to combine, scraping any browned bits from the bottom of the pot. Nestle the chicken breasts within the tomato mixture, making sure they are covered by sauce. Place the lid on the pressure cooker, making sure the bent is set to sealing. Cook on high pressure 20 minutes.

Let the pressure cooker natural release for 10 minutes.

Transfer chicken breasts to a cutting board and let cool slightly. Add remaining 2 Tbsp butter, stir to combine. Using an immersion blender, puree until smooth. Stir in cream or yogurt.

Chop chicken into 1-inch pieces and return to pot. Stir to combine.

Serve butter chicken over rice or roasted vegetables.
Notes
This recipe is easily adapted to diary free by using coconut yogurt or milk and a dairy free butter substitute. Recipe is already soy and gluten free. 
RECOMMENDED PRODUCTS
Instant Pot or some other pressure cooker
RECOMMENDED PRODUCTS
As an Amazon Associate and member of other affiliate programs, we earn from qualifying purchases.